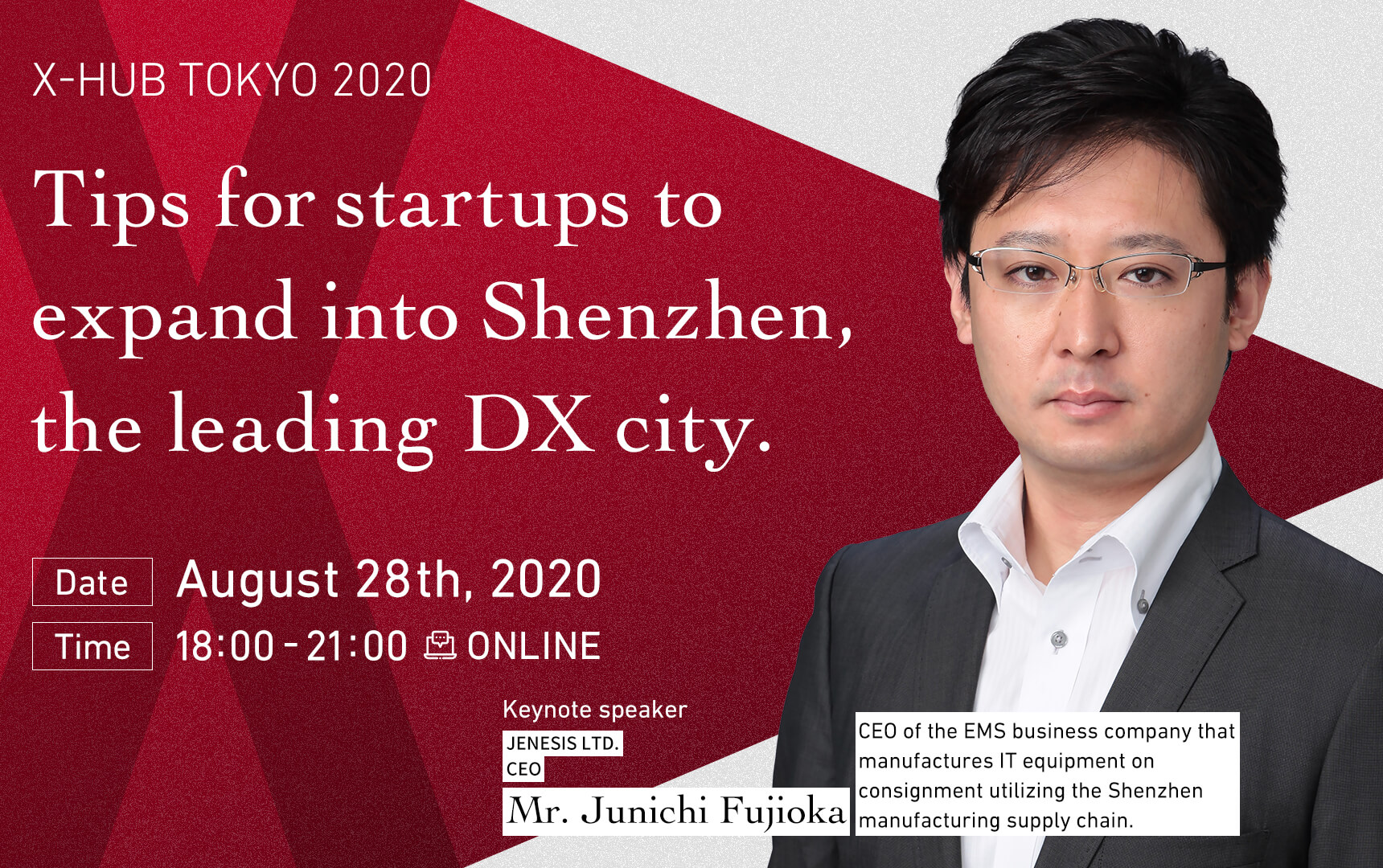 Tips for startups to expand Shenzhen, the leading DX city.
Date:2020/9/4(Fri)18:00~21:00

Entry fee:Free

Place:Zoom
*The URL of the meeting will be sent to those who have applied by the day before the event.
Known as the "Silicon Valley of hardware", Shenzhen has long since developed as a leading innovation city in China. Tencent, Huawei, etc. have their headquarters in Shenzhen, and social implementations utilizing cutting-edge technologies such as unmanned convenience stores and self-driving buses are being realized at high speed.In addition, remarkable growth is expected in the future with the construction of new infrastructure and future cities scheduled to be built.At this event, we will discuss what is happening in the advanced DX cities as a result of the new coronavirus, as well as the "now" in Shenzhen, and provide tips on how to expand into the market that startups should know.We will also tell you how to draw up a business strategy for overseas expansion.

We look forward to seeing you, not only from startups, but also from supporters and institutions!

Event Report
Target
Anyone interested in overseas expansion of their startups can join!
・Startups aiming to expand overseas
・Major corporations, VCs, financial institutions, universities, and other organizations that support startups which is looking to expand overseas.
Application
Please apply at the following URL.
Note
*Your application is processed by Shannon Inc.
The contents of the application are protected by SSL encryption.
*Registration is required for one person at a time.
Contents
1
X-HUB Program Overview
X-HUB Administrative Office
2
Ecosystem of Shenzhen
Shenzhen Economic and Trade Representative Office
Deputy Director
Ms.Baika Hiyaoka
3
Tips for startups to expand Shenzhen, the leading DX city.
JENESIS LTD.
CEO
Mr. Junichi Fujioka
4
How to draw up a business strategy for startups aiming to overseas.
Plug and Play Japan
Head Japan
Mr. Zak Murase
※Please note that the content of the subject may change.
Speech "Tips for startups to expand Shenzhen, the leading DX city."
Mr. Junichi Fujioka
JENESIS LTD.
CEO
He founded JENESIS in Shenzhen in 2011. He is currently based in the Shenzhen Plant of JENESIS, and is mainly engaged in the development and manufacture of IoT devices on consignment for Japanese IT companies and startups. He is also a vice president of JNS Holdings Corporation, a technical advisor to SourceNext Corporation, a strategic advisor to peabang.com, an advisor to DXYZ Corporation, and a hardware advisor to KDDI∞Labo. He also participates in the management of the Ministry of Economy, Trade and Industry's Startup Factory and the Niconico Technology Department's Shenzhen Community, and is actively involved in supporting and guiding startups. He is the author of "Learning from Hardware's Silicon Valley Shenzhen" and "Prototype City".
Speech "Ecosystem of Shenzhen"
Ms.Baika Hiyaoka
Shenzhen Economic and Trade Representative Office
Deputy Director
Born in Shanghai, China, came to Japan in 1987, and after working as a Tsukuba CIR and foreigner consultant from 1993 to 2007, he was transferred to the Shenzhen Economic and Trade Representative Office in January 2008. During her tenure in Tsukuba City, she was involved in work related to the conclusion of friendship agreements and friendly exchanges with Shenzhen City.
Speech "How to draw up a business strategy for startups aiming to overseas."
Mr. Zak Murase
Plug and Play Japan
Head of Ventures
Graduated from the faculty of Environment and Information Studies, Keio university.
After entered into Sony Corporation as a software engineer, transferred to an office in Silicon Valley as a product manager of VAIO, which is computer, in 1998. Worked with PlayStation Network and startups for Optical Disk Drive and User Experience Development, and left Sony Corporation in 2013.
As a representative of offices in Silicon Valley of KDDI and Mitsui Fudosan, engaged in investment activities for startups in the United States. Led the investment projects of 14 startups at a wide range of stage from seed to late, and managed portfolios of 18 startups.
Founded Pacific Sky Partners in 2017, and engage in encouraging Japanese startups to expand their businesses to the US and advising startups as well as providing consulting services to Japanese companies which look for startups in Silicon Valley to collaborate with or invest in.