X-HUB TOKYO, which supports overseas expansion of Tokyo startups, held the FY2023 X-HUB TOKYO Kickoff Event "How Japanese Startups Can Compete Globally" on June 12.
The event provided an overview of the project, as well as useful information for Tokyo startups aiming to expand overseas, including the five conditions for Japanese startups to compete globally and the secrets of success for startups that are active on the global stage.

In the first half of the event, Mr. Masayuki Tadokoro, CEO of Unicorn Farm, Inc. shared "5 criteria for Japanese startups to compete globally" as a keynote speech. He talked about the importance of planning strategies in advance when aiming to expand overseas from a global perspective.

In the latter half of the event, Mr. Taichi Yamaguchi, Managing Executive Officer CSO and General Manager of the LIMEX Sales Division of TBM CO., Ltd., which develops, manufactures and sells the environmentally friendly material "LIMEX", Mr. Kenji Yoshida, Head of the Overseas Business Affairs of AI Medical Services, Inc., which conducts, development and research on endoscopic AI, and Dr. Naomi Kurahara, Founder/CEO of Infostella Inc., a provider of Ground Segment as a Service (GSaaS) for orbiting satellites, participated in a panel discussion on "The secrets of globally successful startups".

Afterwards, there was a networking event with onsite participants, which was a great success.
---
Keynote Speech "5 criteria for Japanese startups to compete globally"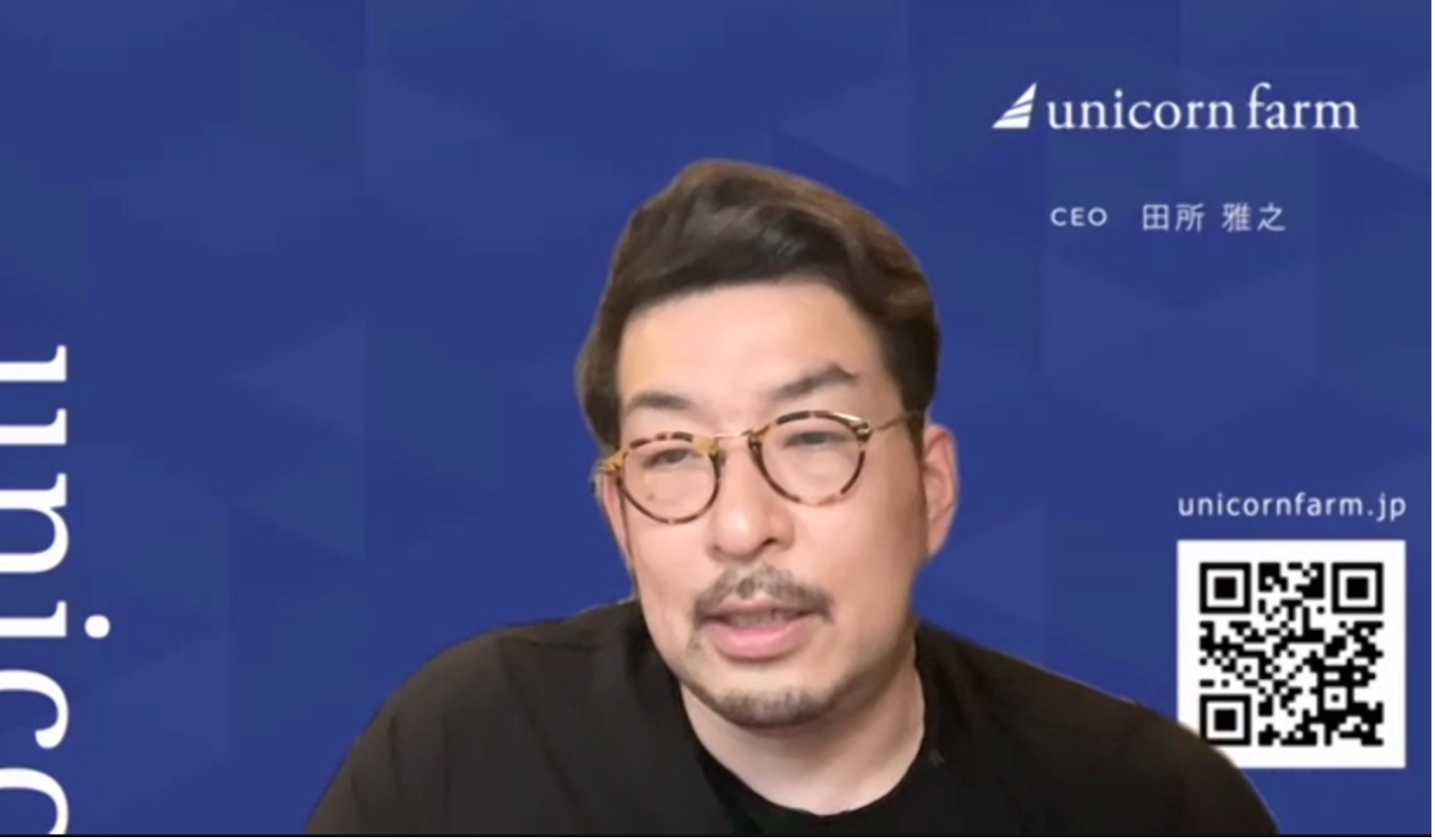 CEO of Unicorn Farm CEO and others
Mr. Masayuki Tadokoro
I would like to start this event with a keynote speech by Mr. Masayuki Tadokoro, CEO of Unicorn Farm, Inc. who is widely active as a serial entrepreneur in Japan and abroad. First of all, please tell us about the key points that Japanese startups should focus on when seeking to expand overseas.

Based on my various overseas experiences, I believe it is very important to thoroughly consider "strategy" and "winning condition". This is because a clear strategy makes it possible to reduce "unreasonableness, unevenness, waste". In other words, a strategy can be described as "an effort to avoid wasted effort".

For example, GAFA, a major U.S. tech company, has grown rapidly because it has made no mistakes in identifying its value chain, the markets it should target, and the size of those markets when expanding its services overseas. If these policies are not clear and the products and services have not yet been realized, it is not uncommon for the company to end up with high costs and failure.
Thank you very much. Now, please tell us your views on how it is desirable to formulate a strategy for overseas expansion.

There are five important points to consider when formulating a strategy for overseas expansion.

The first is to determine the "Want", that is whether the company truly desires to expand overseas. Determine whether the founders and management have empathy for customers in overseas markets and a strong desire to solve local problems.

Second, check whether the company's technological capabilities, cost, and platform will give it an advantage when competing overseas. Focus on analyzing their past achievements and technological abilities to objectively measure their competence.

The third point, "Needed", is how much local need there is for your products and services. Determine whether the potential size of the overseas market is large and how deep-rooted the issues are locally.

The fourth point, "Get paid", is whether entering foreign markets is an appropriate way for a company to grow and survive.

The last point, "Growth Story," is to determine whether the story of overseas expansion is in line with the company's growth axis. Make sure in advance that there are no discrepancies in your growth strategy.

I have been involved in various businesses overseas and have seen numerous examples, and I feel that Japan is often highly regarded overseas. I expect that demand will continue to grow in overseas markets, especially in emerging countries, so I encourage everyone to broaden the scope of your challenges by expanding your business overseas.
---
Panel Discussion "The secrets of globally successful startups"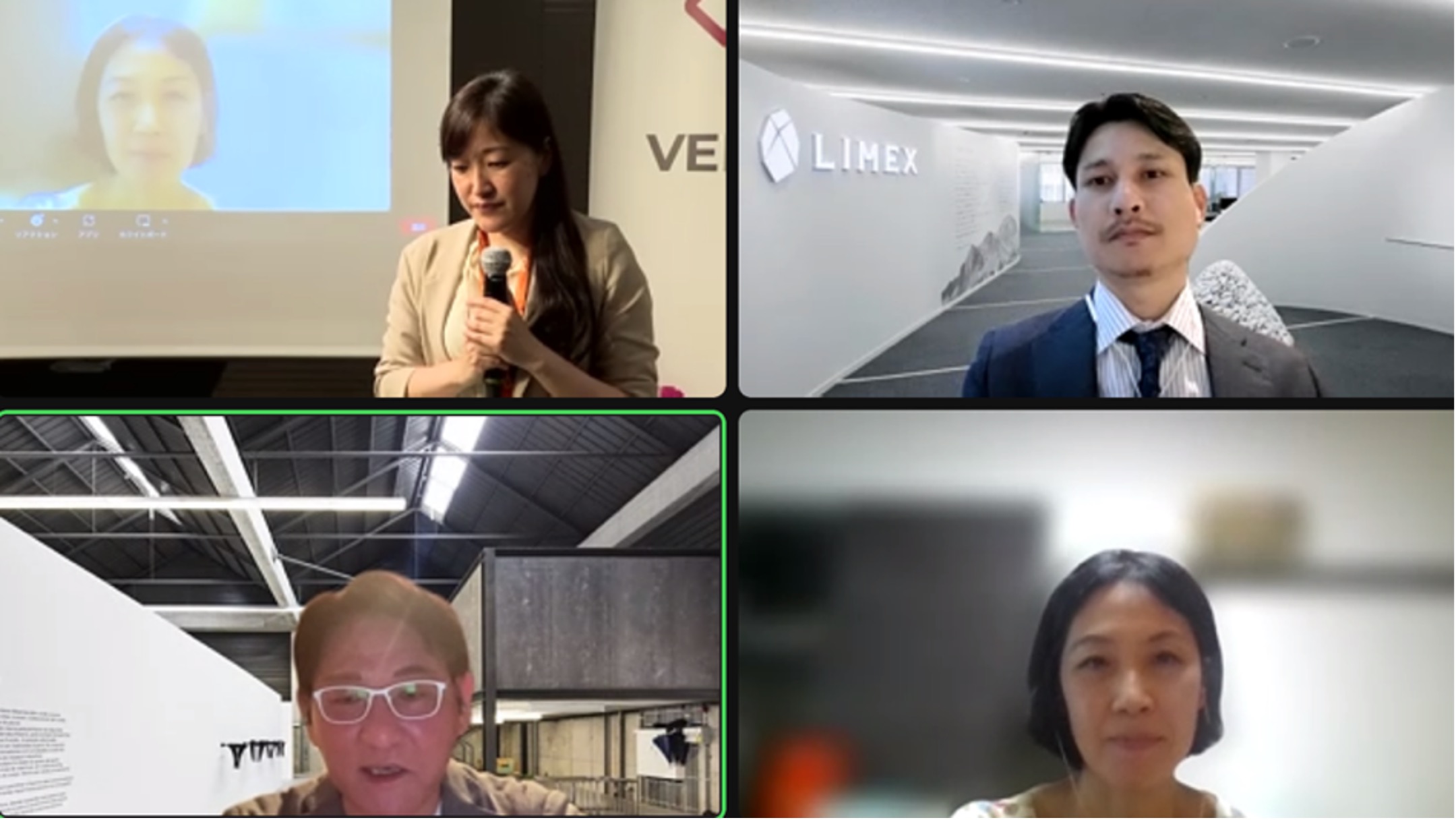 From top left, facilitator Ms. Ayano Kagami
Community Development Lead, CIC Japan; Mr. Taichi Yamaguchi
Managing Executive Officer CSO, and others of TBM Co., Ltd.; Ms. Naomi Kurahara
founder/CEO of Infostella Inc.; Mr. Kenji Yoshida
Head of the Overseas Business Affairs of AI Medical Services, Inc.
Next, we will move on to the panel discussion. The program will be facilitated by Ms. Ayano Kagami, CIC TOKYO Community Development Lead.

Kagami: Hello, CIC (Cambridge Innovation Center) has been supporting innovators for more than 20 years since its establishment in the U.S. in 1999. CIC Japan LLC and CIC Tokyo operate one of the largest innovation hubs in Japan, creating an innovation community that brings together innovators, investors, and companies from around the world. I am excited to speaking with you all today. First of all, let me ask the speakers to introduce themselves and tell us about their progress in overseas expansion.

Yamaguchi: My name is Yamaguchi. We at TBM are developing LIMEX, a limestone-derived material that can replace plastic and paper. LIMEX is a recyclable material, and its production requires almost no water or wood, which helps conserve water, forests, oil, and other resources.

Overseas, people have a stronger sense of urgency than in Japan regarding the depletion of resources and are working to resolve this issue. Therefore, we have had our sights set on overseas expansion since our founding in 2011, and in 2016 we participated in an external acceleration program to specifically consider overseas expansion. This led us to strongly feel the potential for overseas expansion, and we now have offices in Silicon Valley and Vietnam in the U.S. and have entered into a capital and business alliance with a major conglomerate in South Korea.

Yoshida: My name is Yoshida of AI Medical Service, which is developing an endoscopic AI system to assist in the diagnosis of gastric cancer. We are developing our services to solve the social issue of cancer. Cancer is the leading cause of death in developed countries, accounting for more than 10 million deaths annually. Gastrointestinal cancers, including stomach cancer, account for about 30% of these deaths. Therefore, we are focusing on this field and developing services to support early detection of gastrointestinal cancers and increase the survival rate of patients.

As for overseas expansion, we have established corporations in Silicon Valley in the U.S. and Singapore and are in full-scale joint research and commercialization with local medical institutions. Our founder is a physician, and we believe that one of the main reasons we were able to connect with overseas partners was that many of them were interested in the thesis he wrote on AI.

Kurahara: I am Kurahara, Founder/CEO of Infostella Inc. We founded our company in 2016 to develop a satellite ground antenna sharing business. Traditionally, it was considered expensive and inefficient for each satellite operator to own its own antenna. As a solution to this problem, we aim to expand the availability of satellite antennas by building a cloud environment that allows many satellite companies to share antennas.

We decided from our early period to expand our services globally, starting from our headquarters in Japan, and now we have subsidiaries in the UK and the US. Looking back on our international expansion, the timing of our Series A funding in 2017 was a major turning point. Having received investment from a French company at the time, we were able to be introduced to various companies in Europe, which led to full-scale overseas expansion.

Kagami: Thank you very much. Based on your experience thus far, what points do you think were important in promoting overseas expansion?

Yamaguchi: We are still in the early phases and must work to improve our domestic performance. We have actively participated in overseas awards and accelerator programs and have on external recognition abroad. Because of that we got many inquiries from overseas companies, and through specific collaborations and partnerships, we have been able to understand local trends and needs which helped us to plan our overseas marketing strategies. With the establishment of the local subsidiary, we are now taking advantage of LIMEX, which allows us to utilize existing facilities around the world, to strengthen our production capabilities through collaboration with local partners and to expand our sales channels globally. I also think it is important to develop strategies for overseas expansion in accordance with the company's phases: short, medium, and long term.

Yoshida: In our overseas expansion, we have tried to formulate multiple hypotheses about what issues exist in the local market before proceeding with verification. We also participated in the Singapore course of this X-HUB because we lacked knowledge and experience when we first set out to expand overseas. The mentors in the program gave me very detailed feedback on my presentation and supported me in networking locally, for which I am very grateful. I hope that you too will put down roots and work hard in a foreign country to first test your hypothesis.

Kurahara:Our ideal approach to overseas expansion would be to conduct market research in advance and formulate a strategy before entering the market. However, no matter how carefully we research the market, we often do not get the results we want. Even in such circumstances, it is possible to strategically create opportunities to establish contact with overseas companies and markets. Thinking about what programs and channels to use to create those initial opportunities, as well as making the decision to "take on the challenge of going abroad" will be a big step for startups looking to expand their business overseas.
---
At this event, we had speakers from startups who are expanding overseas and senior entrepreneurs, and provided useful information for startups in Tokyo aiming to expand their business overseas, by sharing their experiences. X-HUB TOKYO will continue to provide information on key points when expanding overseas and the features of overseas ecosystems and markets through various events.