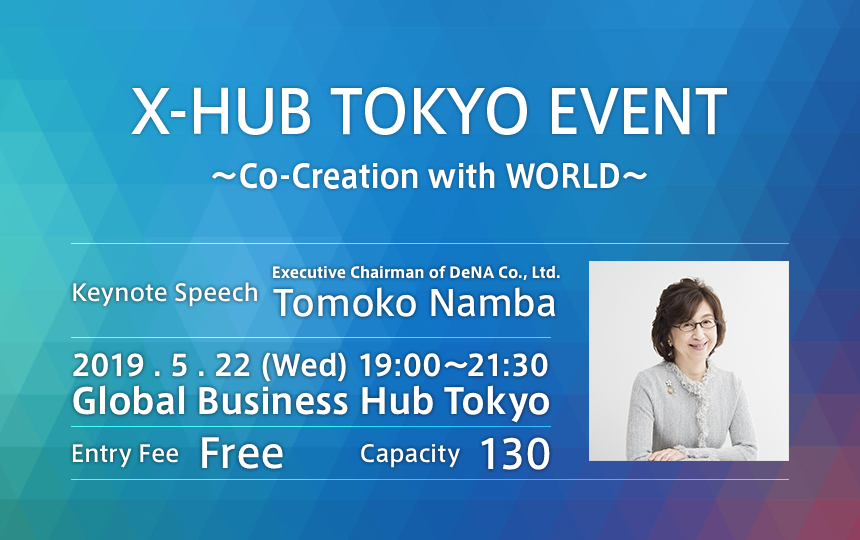 X-HUB TOKYO EVENT
〜Co-Creation with WORLD〜
Date:May 22 (Wed), 19:00~21:30 (Doors open:18:30)
Capacity:130
Entry Fee:Free
Who Should Attend:Entrepreneurs who want to expand overseas, those who are considering starting a business, and media personnel
With the launch of X-HUB TOKYO in fiscal year 2019, we will be holding a kickoff event that will help support those entrepreneurs in Tokyo who are looking to expand overseas.

Event Report
Event Details
X-HUB TOKYO – The Tokyo-based start-up project to help support overseas expansion -, to mark a new start, will be holding a kickoff event in fiscal year 2019. At this event, along with the announcement of the new program outline, DeNA founder Tomoko Nanba has been invited as keynote speaker to help give support to those Tokyo-based entrepreneurs who wish to expand overseas. Any and all entrepreneurs who are interested in expanding overseas are welcome to join us.
Program Schedule
19:00~19:10
About X-HUB TOKYO
19:10~19:40
Keynote Speech
■Speaker Tomoko Namba/Executive Chairman of DeNA Co., Ltd.
19:40~20:00
Outline of 2019's New Program
break
10-minute break
20:10~20:40
Collaboration needs of companies abroad & case studies of past collaboration efforts
20:40~20:55
Q&A
20:55~21:00
Organizer Remarks
21:00~21:30
Networking Event

The schedule may be subject to change.
Simultaneous interpretation available.
Keynote Speaker
■ Keynote Speaker
Tomoko Namba
Born in Niigata Prefecture
1986 – Started to work at McKinsey & Co.
1990 – Received an MBA from Harvard Business School
1996 – Became a partner(executive officer) at McKinsey & Co.
1999 – Left McKinsey & Co.. Founded DeNA and served as the company's CEO
2005 – DeNA listed its stock on TSE Mothers.(Its stock was moved to the First Section of TSE in 2007.)
2011 – Stepped down from her position as president and CEO to take care of her husband
2015 January – Team owner of the Yokohama DeNA BaysStars (baseball team)
2015 June – Became the Chairman DeNA
2017 March – Became the Executive Chairman of DeNA (to the present)

official position
2003 – Became a member of IT Strategic Headquarters
2004 – Became a member of the Council of Regulatory Reforms and Promotion of Opening up to Private Sector
2015 – Became a member of the Fiscal System Council (to the present)
2016 – Became a member of the Growth Strategy Council – Investing for the Future chaired by Prime Minister Abe (to the present)

Book
2013 – Published her first book – "Malformed Management – Challenge of Team DeNA"(Nikkei Publishing Inc.)