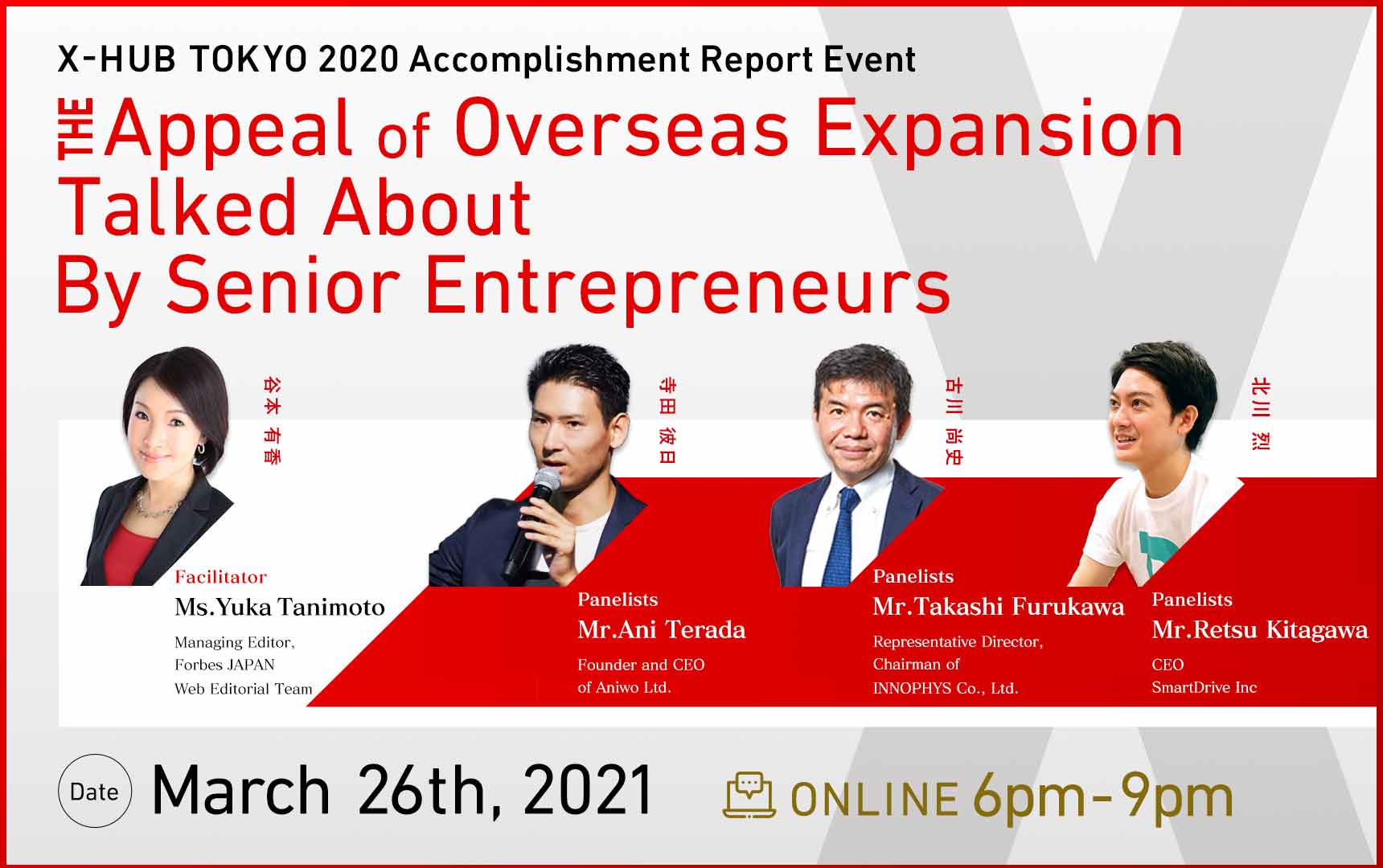 X-HUB TOKYO 2020
Accomplishment Report Event ~ The appeal of overseas expansion talked about by senior entrepreneurs ~
Date:March 26th 2021 (fri) 6pm-9pm

Entry fee:Free

Place:Zoom
*The URL of the meeting will be sent to those who have applied by the day before the event.
The 2020 was a turbulent year with significant changes in the business environment for startups due to COVID-19. X-HUB TOKYO has been encouraging startups to expand their business overseas in order to realize "creation of a new normal" through the power of startups, precisely because people's lifestyles have changed so much.

We would like to report on the results of this year's event as a token of my gratitude to everyone who has participated in the events, to the members who have supported the X-HUB TOKYO, and to the various support organizations.

In addition, graduates of the X-HUB TOKYO from previous years and entrepreneurs with experience in overseas development will take the stage to discuss the future of overseas development and the secrets to success.

Feel free to join, not only for startups aiming to expand overseas, but also for those from large corporations and supporters who are interested in the situation of startups!

Event Report
Contents
Contents
Speakers
1
Accomplishment report session
X-HUB TOKYO Administration Office
2
Senior Entrepreneur Panel Discussion
Facilitator:
Forbes JAPAN Web Editorial Department Ms. Yuka Tanimoto

Panelists:
Founder and CEO of Aniwo Ltd. Mr. Ani Terada,Representative Director, Chairman of INNOPHYS CO., LTD. Mr. Takashi Furukawa,
CEO of SmartDrive Inc Mr.Retsu Kitagawa

3
OUTBOUND PROGRAM Achievement briefing session
OUTBOUND PROGRAM Representative company
4
INBOUND PROGMRAM Achievement briefing session
INBOUND PROGRAM Representative company
※Please note that the lecture content is subject to change.
Facilitator
Ms. Yuka Tanimoto
Managing Editor, Forbes JAPAN Web Editorial Team 
Yuka Tanimoto earned an MBA in the U.S. in 2004 after gaining experience at a brokerage firm and serving as a financial and economic anchor for Bloomberg TV. She next worked as a newscaster for Nikkei CNBC and became the company's first-ever female commentator.
Through her career, Ms. Tanimoto has interviewed over 3000 VIPs from every corner of the globe including former British Prime Minister, Tony Blair, and Co-founder of Apple, Steve Wozniak, and founder of Starbucks, Howard Schultz.
She currently serves as a column contributor to the media, as moderator of the economic symposium, as a corporate advisor.
In February 2016, she joined Forbes JAPAN as a Deputy Editor in Chief and Web Editor. In June 2020, she became a Managing Editor for Forbes JAPAN Web Editorial Team.
Yuka Tanimoto's literary works include "Active Listening The Art of Listening for Success"(Diamond, Inc.),"Time Mastery of 1000 Top World Leaders"(Kadokawa/ Chukei Publishing)
panelists
Ani Terada
Founder and CEO of Aniwo Ltd.
Ani Terada is the Founder and CEO of Aniwo ​which is an innovation platform company located in Israel and Japan. Mr Terada is the first Japanese entrepreneur established the VC backed startup company. He has a lot of experience of innovation related activities with leading Japanese corporations and Israeli startups.
Kyoto University (MBA), Osaka University (BEc)
Takashi Furukawa
REPRESENTATIVE DIRECTOR, CHAIRMAN of INNOPHYS CO., LTD.
A Tokyo University of Science venture company that develops and sells exoskeleton-type wearable robots that help people move, based on the principle of "realizing independent living for as long as you live".
Retsu Kitagawa
CEO of SmartDrive Inc
Graduated from Keio University. After studying in Boston, Mr Kitagawa was engaged in analyzing traffic data at the University of Tokyo graduate school. After experiencing IT ventures at home and abroad, including self-driving technology and electric vehicles, in October 2013 Mr Kitagawa founded SmartDrive, Inc., and became CEO.
Participation target
Anyone who is interested in the overseas expansion of startups is welcome to attend.
・Startups aiming to expand overseas
・Large companies, VCs, financial institutions, universities, and other organizations that support startups aiming to expand overseas
Fee
Free
Place
Zoom
*The URL of the meeting and timetable will be sent to those who have applied by the day before the event.
How to participate
Please apply from the following URL
Note
*When applying, please note that the application process is based on the services of Shanon Corporation.
The information you enter is protected by SSL encryption.
*Registration is required for each person.