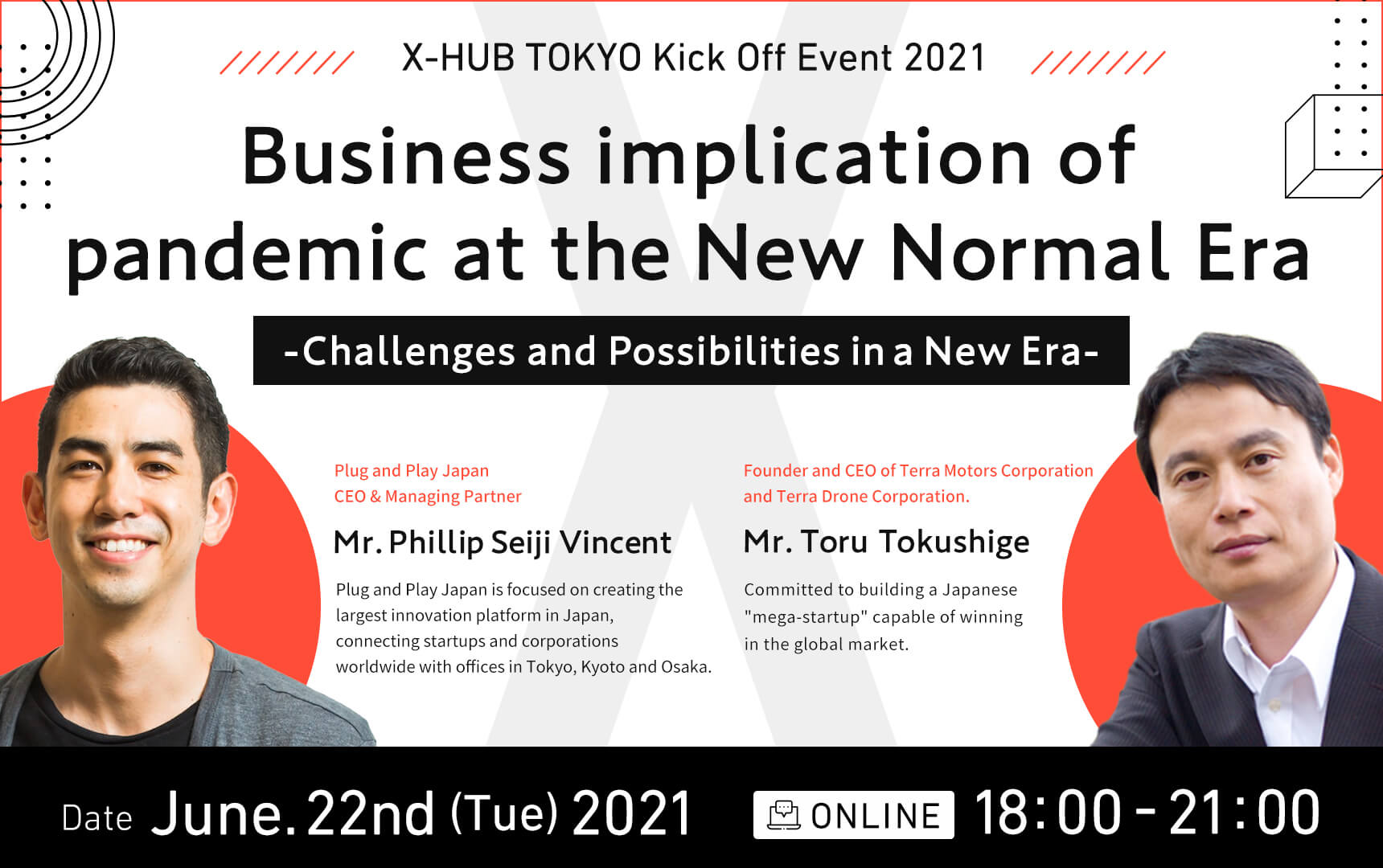 X-HUB TOKYO Kickoff Event 2021
Business implication of pandemic at the New Normal Era
-Challenges and Possibilities in a New Era-
Date:June. 22nd (Tue) 2021 18:00-21:00(JST)
Since the COVID-19 outbreak hit us last year, its global impact has significantly changed our lifestyle, including physical restrictions in transportation services, which alternatively gave an advent of various business innovations.

One of the major effects that this pandemic brought upon us is the urge demand for a contactless society which accelerated the adoption of digital transformation followed by new IT / IoT technologies. Given that impact, it facilitated the online-video conference and work-from-home, and businesses in the New Normal era has already transcended physical distance restrictions in the past. As physical distance constraints has been reduced, global business is significantly accelerating its market speed at an unprecedented rate.

Under such circumstances, it seems rather inefficient to manage your business solely based on domestic resources, and should be undeniable to say that the recruiting oversea talent is necessary to conduct one's business with the rapid global market speed.

Nevertheless, under high uncertainty in the business as the impact of COVID-19 deepens, it is more difficult than ever for one company or one organization to reconstruct management strategies and establish new business alliances. We as the Tokyo Metropolitan Government launched the program "X-HUB TOKYO" with the motivation to support the global activities of startups in Tokyo and revitalize the city's economy through exchanges with overseas startups that are active in the global market. Our ultimate goal is to create a global ecosystem in Tokyo that promotes and concretes the international business relationship.

At this Kick-Off Event, we will be holding seminars with the opening on the outline of X-HUB TOKYO 2021, comparison of the business ecosystem between overseas and Japan, the necessity of overseas expansion with an eye on the new normal era, and its business strategy.

In the first half of the event, Mr. Phillip Seiji Vincent, CEO and Managing Partner of Plug and Play Japan will give us a talk on the current global business situation after the pandemic outbreak and the latest startup ecosystem. Understanding the latest overseas ecosystem trends with actual examples, it clarifies what the Japanese market has been facing as obstacles to prevent oversea expansions and how we should overcome those issues in the new normal era. In addition, the talk will cover the tips for Japanese startups for the oversea expansion and also the possibilities of open innovation.

In order for startups to expand overseas and succeed, they must overcome various hurdles and challenges that differ from the domestic market.On the other hand, the current situation is that there are not many opportunities to share real experiences of overseas expansion in an open space. Therefore, in the latter half of the event, Mr. Toru Tokushige, Founder and CEO of Terra Motors Corporation and Terra Drone Corporation will give us a talk about the thoughts of the company's founding, the background to the expansion of Asian countries such as Bangladesh and the Philippines, and the overseas startup companies from Japan should know. We will talk about the know-how of development and the actual situation.

Schedule
1. Overview of X-HUB TOKYO 2021
2. Keynote Speech "Challenging the New Normal Era (tentative)"
  Mr. Phillip Seiji Vincent, Plug and Play Japan, CEO & Managing Partner
3. Senior entrepreneur session "Struggle to Create a Global Mega-Startup"
  Mr. Toru Tokushige, Terra Motors Corporation and Terra Drone Corporation, Founder & CEO
4. Overview of the 2021 OUTBOUND PROGRAM

*The contents of each session may be modified without notice.

We are looking forward to the participation of not only start-ups, but also those from support organizations as well.

Event Report
Target
Anyone interested in overseas expansion of their startups can join!
Startups aiming to expand overseas
Major corporations, VCs, financial institutions, universities, and other organizations that support startups which is looking to expand overseas.
Entry Fee
Free
Place
Zoom Webinar
*The URL for the meeting will be sent to those who have applied by the day before the meeting.
Application
Please apply at the following URL.
Note
"*Your application is processed by Shannon Inc.
*The contents of the application are protected by SSL encryption.
*Registration is required for one person at a time."
Speaker
Phillip Seiji Vincent
Plug and Play Japan CEO & Managing Partner
Phillip is the CEO & Managing Partner of Plug and Play Japan, a subsidiary of Plug and Play Tech Center located in Silicon Valley. He is also a board member of Plug and Play Asia region, focused on East Asia. In 2014, he started working at Plug and Play in Silicon Valley, headed both the IoT and Mobility verticals before moving to Tokyo to launch Plug and Play Japan in 2017. Plug and Play Japan is focused on creating the largest innovation platform in Japan, connecting startups and corporations worldwide with offices in Tokyo, Kyoto and Osaka.
Prior to working for Plug and Play, Phillip worked for Uniglobe Kisco, the U.S. subsidiary of KISCO, a large Japanese trading company. Phillip was an Account Executive in charge of business development between Japan and the U.S. He graduated from San Diego State University.
Mr. Toru Tokushige
Founder and CEO of Terra Motors Corporation and Terra Drone Corporation.
Born 1970 in Yamaguchi prefecture, he is a graduate of the Faculty of Engineering at Kyushu University.
After working on product and corporate planning at the former Sumitomo Marine & Fire Insurance Co., Ltd. (now Mitsui Sumitomo Insurance Co. Ltd.), he graduated with an MBA from the Thunderbird School of Global Management at Arizona State University. He then moved on to investing in and providing hands-on support for startups in Silicon Valley.
Terra Motors Corporation, the electric motorcycles startup Tokushige established in April 2010, became the market leader in Japan within two years of its founding, while local Terra Motors subsidiaries were established in Vietnam, India, and Bangladesh. In 2016, he set up Terra Drone Corporation, a company focused mainly on using drones to provide surveying services. Tokushige is committed to building a Japanese "mega-startup" capable of winning in the global market.