X-HUB TOKYO, which supports the overseas expansion of startups in Tokyo, held its Accomplishment Report Event on March 17th, 2022.
Mr. Yasumasa Yamamoto, venture capitalist and visiting professor at the Graduate School of Business of Kyoto University, and Mr. Kenjiro Shigemi, President and CRC of TOYOKO Corporation, provided keynote speeches on the latest trends in overseas technology and the realities of overseas expansion, providing useful information for startups in Tokyo seeking to expand their businesses overseas.
In the latter half of the event, Japanese and overseas startups who participated in the various programs of X-HUB TOKYO in FY2021 gave presentations on their achievements, what they learned and realized from the programs and their future prospects from their respective standpoints.
---
Keynote Speech – Facing the latest technology in the coming era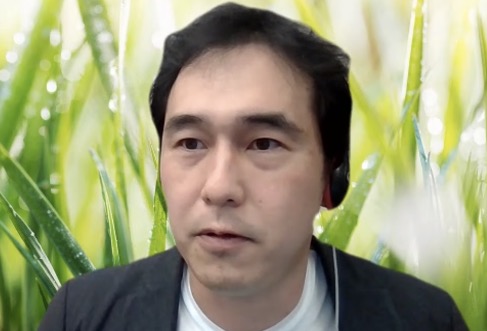 Mr.Yasumasa Yamamoto
Venture Capitalist / Visiting Professor of the Graduate School of Business, Kyoto University
First, we invite Mr. Yasumasa Yamamoto, a venture capitalist and visiting professor at Kyoto University's Graduate School of Business. How should Japanese companies and startups face the latest technologies, given the remarkable development of technology these days?

Technology will play an important role in many aspects of society. In other words, a completely new world will emerge in which the foundation is laid by technology, where every company and organization will operate on this foundation at an accelerating pace.

The key is to anticipate the value of new technologies as they emerge, how they can be used, and what the future will look like with this technology. Try to not only understand and analyze the current situation, but also consider how the future will be changed by technology.

For example, if self-driving technology, which has been the focus of much attention in recent years, permeates our daily lives, it could lead to lower labor costs for drivers, which in turn could lead to lower fares for cabs and public transportation. In this way, organizing and thinking about how technology will change our lives will in turn change the way we create services and businesses.
From your position as a supporter of numerous startups, could you give a message to Japanese startups that are looking to expand their business overseas?

Japanese startups should aim for overseas markets after determining the areas where they can add the most value. If you envision overseas expansion from the early stages of your business, your business will progress more steadily. English skills are essential when doing business overseas, and I definetly recommend that you train daily.

In addition, many new trends and technologies are created overseas. Do not obtain information only from the Japanese media – always be on the lookout for information originating overseas as well. If possible, consider visiting or living in a country overseas to obtain information grounded in the local community, as it is sure to provide you with a different view of the world.

I would like to encourage overseas companies and startups to actively expand their business into Japan. In the past, there have been overseas startups that were inspired in Kyoto that have grown significantly. I would be very happy if Japan could be used not only as a base for business, but also as a place to get ideas and inspiration, and as a gateway to entering the Asian market.
---
Entrepreneurs' Experiences in Overseas Expansion – Challenges for Global Startups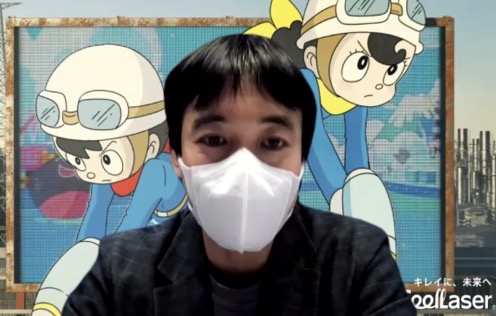 Mr. Kenjiro Momi
Representative Director President CRC
TOYOKOH Inc.
Next, we invite Mr. Kenjiro Shigemi, President and CRC of TOYOKOH Inc. to provide a presentation on TOYOKO's business and experience expanding overseas.

We are a company based in Shizuoka prefecture with laser-related technologies and roof repairs. In laser technology, we have developed a new method that can easily remove rust from steel materials such as on bridges and steel towers. In the area of roof repair, we have devised a unique method we call "revitalization" and have established a technology that, when sprayed on a roof, leads to seismic reinforcement and prevention of leaks. One of our strengths is that the material is lighter than reinforcement using steel plates and other materials, and can be installed in a short period of time without stopping the production line. Currently, we are also proposing to make the entire production plant zero-carbon in order to reduce environmental impact.

Aging public buildings and infrastructure such as bridges, steel towers, and highways are becoming a serious problem not only in Japan but also in many other countries around the world. The United States, for example, has an annual budget of about 110 trillion yen and has launched a plan to renew aging infrastructure such as bridges, roads, and railroads.

We are currently negotiating with the construction company in charge of maintaining the Golden Gate Bridge in the U.S., which is facing a rusting problem, proposing our laser technology.
Please tell us about the progress of your overseas expansion and your future outlook.

Overseas, we have a subsidiary in Thailand and have a on-going discussion with the California state government in the United States. In our global expansion, we want local people in each country to manage TOYOKO in that country, and we want to develop our business globally while sharing opinions with each other throughout the company. For this reason, we have hired a local person to head the management of our Thailand subsidiary as well.

We have decided to use our second founding as an opportunity to expand our business globally. This was because we were convinced that our technology and business would definitely be useful around the world. We have only just begun our business overseas, but we will continue to work hard to maintain our solid trust in our technology.
---
Accomplishment Report of OUTBOUND PROGRAM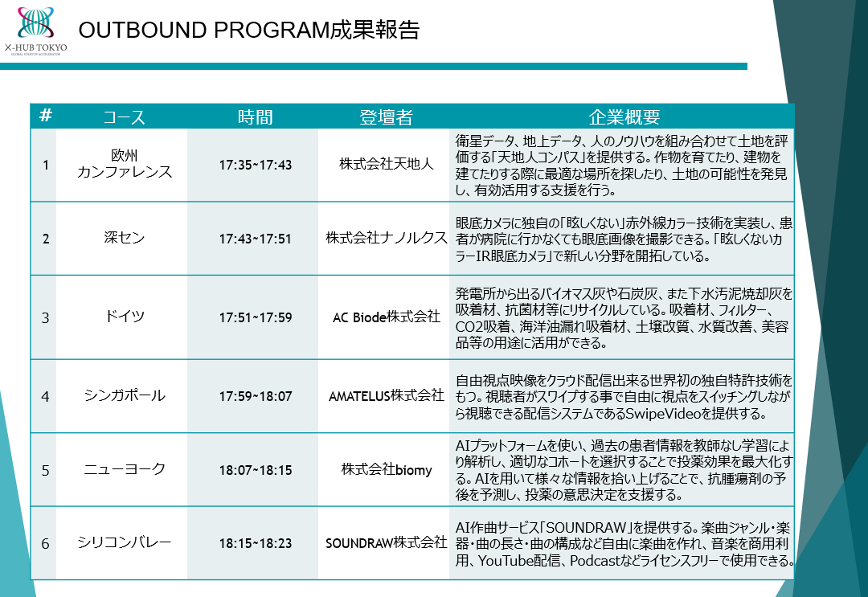 X-HUB TOKYO's OUTBOUND PROGRAM in 2021 was operated by the Japan External Trade Organization (JETRO) to support overseas expansion for startups in Tokyo seeking to expand overseas.

Six courses were offered: European Conference, Shenzhen, Germany, Singapore, New York, and Silicon Valley, according to the desired destination of expansion. In collaboration with global accelerators who are familiar with the ecosystems in each region, the program created opportunities for business partnerships and funding from investors, in addition to bootcamps and mentoring.

In response to the spread of COVID-19, the program also provided online tips and ideas for aggressive overseas expansion.

Tenchijin (Minato-Tokyo), which helps clients improve the efficiency and sophistication of their business through climate and land analysis using sanitation data, shared that "at VIVATECHNOLOGY, a major event in France that I attended online through the European Conference Course, I was able to make contact with about 30 companies We succeeded. We have been actively following up with the three companies since then to explore the possibility of collaboration." AC biode (Kyoto, Japan), which is involved in ash recycling and materials development and participated in the Germany course, reflected, "I had the opportunity to connect with industry-specific consultants, and for the first time in my life, I received an order solely online.

"The New York course was almost entirely conducted in English, so it was hard work, but I gained know-how on how to enter the U.S. market," said biomy (Shibuya, Tokyo), who participated in the New York course. SOUNDRAW (Shibuya, Tokyo), participating in the Silicon Valley course and is developing an AI composition service, commented, "I learned a lot from the lectures on know-how and points to keep in mind when expanding overseas. We have also made progress in discussions toward collaboration through exchanges on LinkedIn, a business social networking service, and we feel that the course was very successful.

The OUTBOUND PROGRAM also provided practical support for overseas expansion. Nanolux (Minato-Tokyo), a developer of color night vision cameras that participated in the Shenzhen course, shared, "We were also able to discuss the establishment of an office to establish a local subsidiary overseas, and we were impressed by the very soft attitude of the support we received. AMATELUS (Shibuya, Tokyo), a participant in the Singapore course and developer of a video service that allows users to easily shoot and distribute videos from a free perspective, commented, "I spent a very productive 8 weeks with the mentoring and business matching. We are still in the process of conducting business negotiations, and I highly recommend this program for startups and companies considering overseas expansion in the future."
---
Accomplishment Report of INBOUND PROGRAM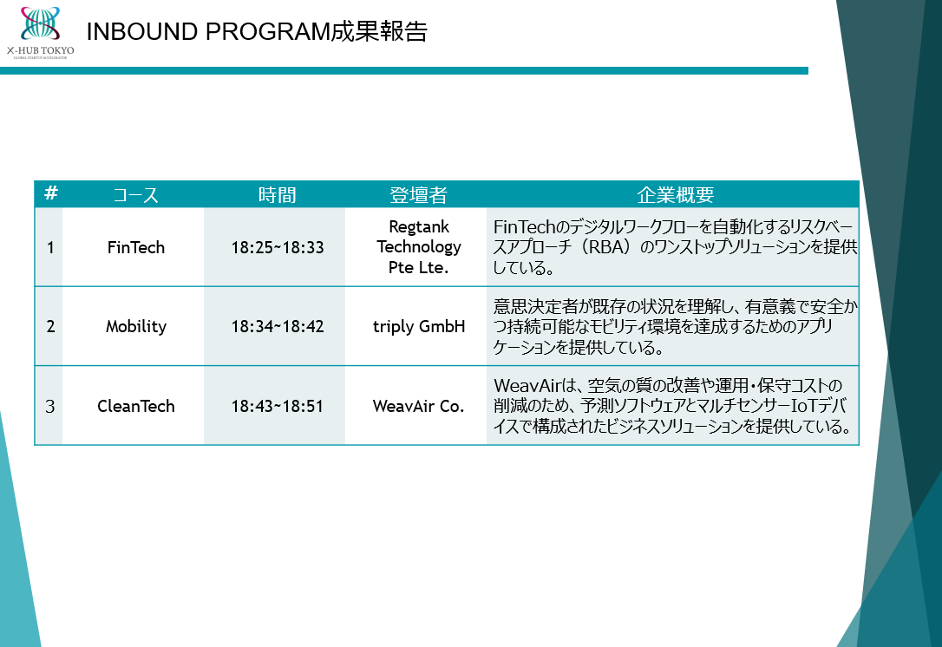 X-HUB TOKYO's INBOUND PROGRAM in 2021 provided online support for exchanges between overseas startups and Tokyo-based companies and startups in the three business domains of FinTech, Mobility, and CleanTech. The program also included mentoring by experienced business professionals, lectures on the markets necessary for expanding into Tokyo, and business matching and pitch events with large companies, VCs, and startups in Tokyo.

The program also included lectures on laws and regulations to keep in mind when entering the Tokyo and Japanese market. RegTank Technology, a Singapore-based SAAS service provider, commented, "The X-HUB TOKYO program was very helpful in understanding the Japanese fintech ecosystem and the local market. As our company also deals with cryptocurrencies, the lectures on regulatory aspects such as laws were also very helpful."

Through the matching opportunities created by X-HUB TOKYO, some overseas startups are in advanced talks to enter the Japanese market. triply, an Germany-based company that analyzes mobility data, said, "We heard that the number of people who own cars in Japan is decreasing, and we saw the potential for new mobility services. We also plan to continue discussions with Japanese companies on how to utilize data such as real estate and location data."

WeavAir, which has offices in Canada and Korea that develops IoT devices to improve air quality and reduce operation and maintenance costs, said, "Through the X-HUB TOKYO program, we have had the opportunity to work with a variety of companies. We would like to continue recruiting agency partners in the future."