X-HUB TOKYO, which supports overseas expansion of startups in Tokyo, held a 2022 X-HUB TOKYO kick-off event, "Global Trends of Startups and Keys to Successful Overseas Expansion during COVID-19" on June 22.
In addition to an overview of the overall project and an introduction to Tokyo's startup ecosystem (hereafter referred to as the "SU ecosystem"), the event provided useful information for startups in Tokyo seeking to expand overseas, including trends in global startups and their overseas expansion methods, and the secrets of successful overseas expansion during COVID-19.
In the first half of the event, Ms. Tomoko Namba, Founder & Executive Chairman of DeNA Co., Ltd. (DeNA), who has been working to create an SU ecosystem as a Vice Chair of Keidanren, shared the current state of the SU ecosystem in Tokyo, what it should look like in the future, and the key points necessary to create an environment which induces innovation.
In the middle of the panel discussion, panelists, Mr. Takaaki Umezawa, Chairperson of CIC Japan G.K and Chairperson of A.T. Kearney K.K., and Mr. Nobuhiro Matsuyama, Chief Financial Officer of Astroscale Holdings Inc., participated. With the facilitator Mr. Yuma Saito, Founder and CEO of Deloitte Tohmatsu Venture Support Co, they discussed what Japanese startups should keep in mind when expanding overseas.
In the second half of the discussion, Mr. Shunsuke Aoki, representative of Yukai Engineering Corporation, which develops and sells communication robots, took the rostrum and introduced the secrets of successful overseas expansion.
---
Keynote Speech – Current Status and Future Prospects of Tokyo's SU Ecosystem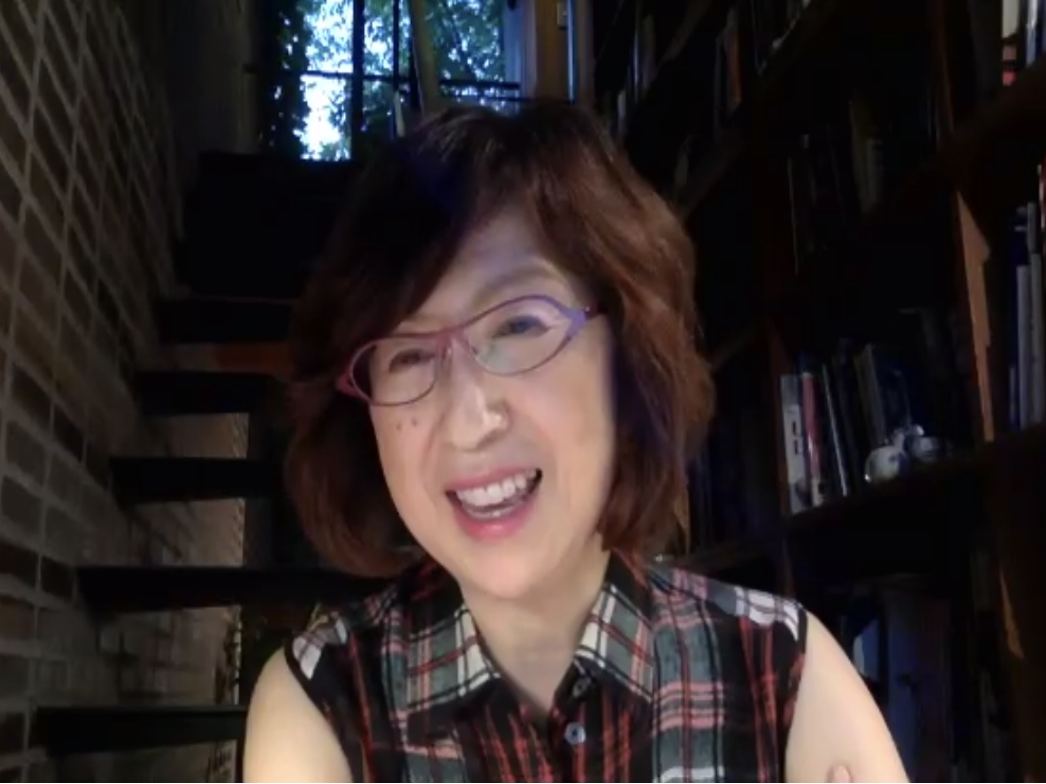 DeNA Co., Ltd.
Ms. Tomoko Namba, Executive Chairman / Vice Chair of Keidanren
Today we have, as our keynote speaker, Ms. Tomoko Namba, Executive Chairman of DeNA Co., Ltd. and a Vice Chair of Keidanren. First of all, could you tell us a little about the "Startup Breakthrough Vision" announced by Keidanren in March 2022?

The "Startup Breakthrough Vision" is not primarily focused on what the node with startups should be like from the perspective of large companies but is a proposal created to realize an ecosystem that broadens the supporter base for startups in Japan and produce many startups that will be active on a global scale.
The proposal sets forth a policy to expand the supporter base and increase the number of startups tenfold in the next five years, as well as the level of successful startups. In Japan, especially in Tokyo, the number of startups and the total investment are on the rise. At the same time, however, the gap between Japan and other countries is widening.
In order to break through this current situation, the proposal includes 38 items as measures that should be taken to bring about seven major changes, including "creation of a command post for startup promotion policies (e.g., Startup Agency)," "mobilization of human resources," and "a society where people can enjoy and feel familiar with entrepreneurship." By promoting these concrete measures, we hope that in five years' time, startups with a market capitalization of over 1 trillion yen will be born in Japan, and that Tokyo is going to become one of the world's leading startup clusters.
Please tell us what is necessary to realize the vision you have just told us and to establish a system for Japan to support startups in the future.

First, in terms of systems and institutions, it is necessary to provide sufficient financial and other support so that startups can overcome the barriers they face as they move from commercialization to the turnaround stage. On the other hand, it is also important to be open to any shortcomings in the current SU ecosystem and the systems that support it, and to "give positive feedback". It is also important to prevent "Galapagos Syndrome" by creating a foundation that allows entrepreneurs to foster free innovation, and by being aware of "global standards" through listening to the voices of entrepreneurs who are active around the world, as well as investors and VC firms. As such foundation is created, Japan will become a place where top talents and startups from around the world gather.
While many distinctive SU ecosystems have emerged around the world, Tokyo's potential should not be small. Its distinctive culture, entertainment, and public safety are elements to be proud of in the world. The growth of startups leads to economic development, the promotion of innovation, and the resolution of social issues. Let's work together to create the foundation in which the next generation of future leaders can thrive!
---
Panel Discussion: "The Latest Trends in Global SUs and Their Overseas Expansion Methods"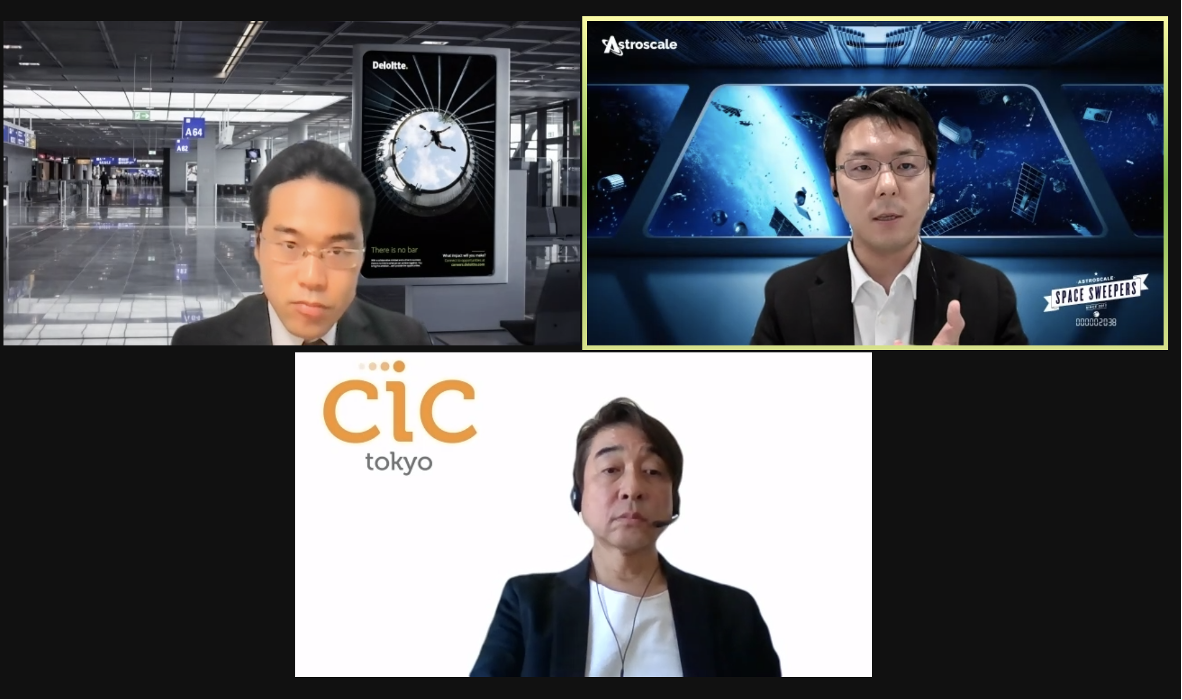 Mr. Yuma Saito, President and Representative Director, Deloitte Tohmatsu Venture Support Co.
Mr. Nobuhiro Matsuyama, Chief Financial Officer (CFO), Astroscale Holdings Inc.
Mr. Takaaki Umezawa, Chairman, CIC Japan LLC / Chairman, A.T. Kearney K.K.
(Top left, top right, bottom center)
Next, we will move on to the panel discussion, "The Latest Trends of SUs that are Active Globally and their Overseas Expansion Methods". First, please introduce yourselves and your businesses and services.

Umezawa: My name is Umezawa, Chairman of CIC Japan LLC and Chairman of A.T. Kearney K.K. We, the Cambridge Innovation Center (CIC), have been supporting innovators for over 20 years since our founding in the United States in 1999. And CIC Japan LLC operates one of Japan's largest shared offices for startups in Toranomon, Tokyo, creating an innovation community that brings together innovators, investors, and companies from around the world. In addition, since opening in October 2020, we have hosted over 240 events on startups and innovation.

Matsuyama: My name is Matsuyama, Chief Financial Officer (CFO) of Astroscale Holdings Inc. We develop on-orbit services which include services to remove space debris (debris), and since our founding in 2013, we have been developing technologies related to measures to reduce and remove the ever-increasing amounts of debris in orbit. We also work with multiple private companies, organizations and government agencies to develop space policy.
I heard that each of you is engaged in a wide range of businesses overseas as well. Please tell us what you emphasize and what you keep in mind when expanding overseas.

Umezawa: When doing business overseas, it is going to be difficult to succeed by simply bringing Japanese business, services, and the way of thinking directly overseas. Therefore, I feel it is important to create an environment rich in diversity and change mindsets by actively appointing people from overseas to management and teams in order to have a global perspective even in Japan.

Matsuyama: When establishing subsidiaries or offices overseas, it is important to have the spirit of "delegating local matters to the local people" and to establish systems and structures that will make it possible. We recommend close discussions with local members to gain a deeper understanding of overseas markets and customers. Of course, it takes courage to allow discretion to the local team. However, if the local members feel that they are trusted, I believe that business will move forward.
What is expected of Japanese startups and their supporters in the future? What are your views?

Matsuyama:I think Japan can improve its systems and structures supporting startups in the future. Financial support is essential, especially for deep tech and other areas that require long time and a large investment in research and development. To this end, we hope for increased government investment and a legal system supportive of startup fund raising.

Umezawa: In order for Japanese startups to succeed and in turn draw attractive startups from around the world, I think it is important to have strengths in specific fields that make people think, "I want to do business in Japan in this field." I think one option would be to create industrial clusters or huge shared laboratories in highly convenient areas with excellent accessibility to establish systems and environments that allow more free exchange of human resources, such as allowing a variety of people to gather or employees of large companies to work just one day per a week at a startup.
Please give a message to Japanese startups that are aiming to expand overseas in the future.

Matsuyama: Looking back on my past experiences, especially in the beginning, I sometimes found it difficult to adapt to a foreign business environment. However, I found out that people will respect you if you calmly express your opinion. There will be a bright future ahead of you if put in your best effort and move forward decisively.

Umezawa: Let's build a team that can fight for a long time, with "Think Global" and "Keep Fighting Tenaciously" in mind. We are also serious about fostering the SU ecosystem and nurturing startups, and hold various events from time to time, so we hope that this will be one of the opportunities for your overseas expansion.
---
Lecture by a senior entrepreneur: "Secrets of Successful Overseas Expansion in the COVID-19".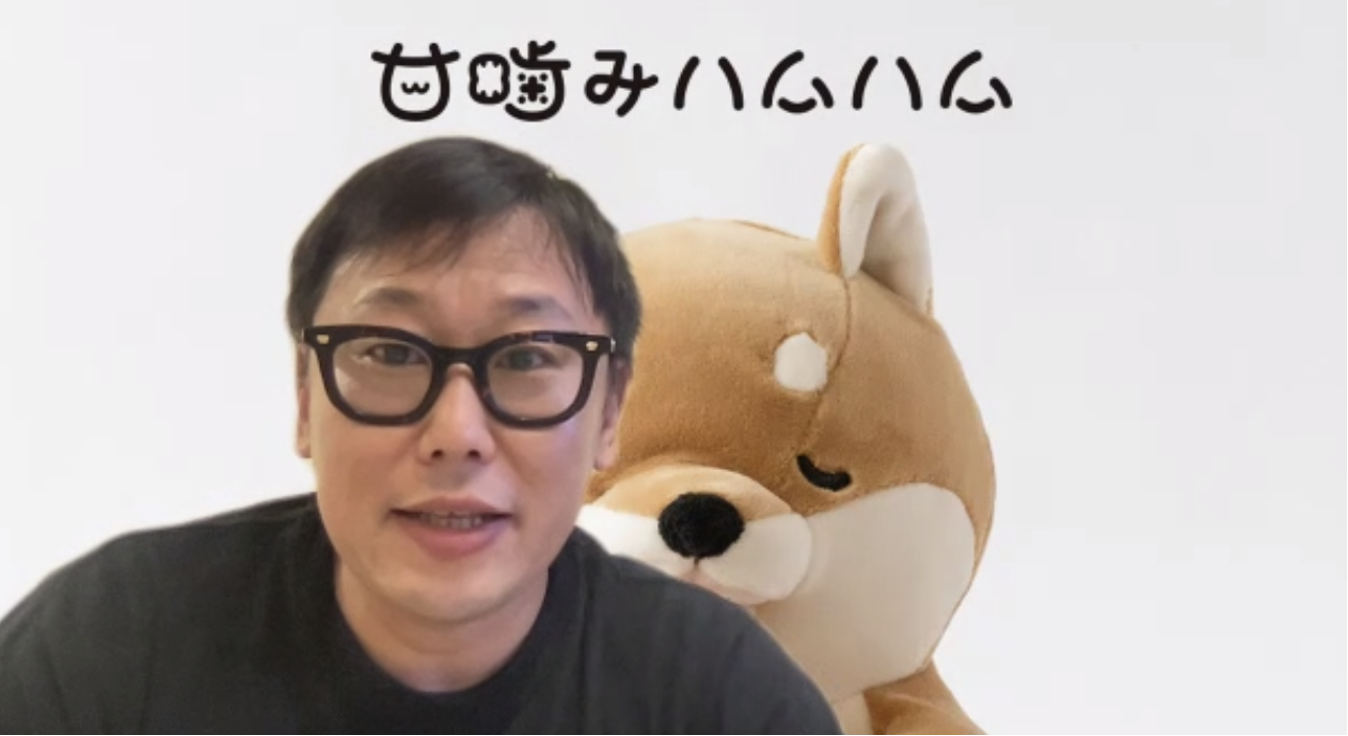 Mr. Shunsuke Aoki
President, Yukai Engineering Co.
Finally, we will move on to the lecture by a senior entrepreneur, "Secrets of Successful Overseas Expansion in the COVID-19". Today we have invited Mr. Shunsuke Aoki, President of Yukai Engineering Co.

My name is Aoki from Yukai Engineering Co. We are a robotics venture company that develops and sells a variety of products under the slogan "Robotics makes the world a better place". Based on our expertise in manufacturing and selling our own products, we handle hardware design and manufacturing, software and application development, and other services to meet our customers' needs. These include robots that help families communicate with each other and robots that can be linked to healthcare devices.
Looking back on your overseas expansion to date, how have you increased your visibility overseas, and do you have any advice for Japanese startups looking to expand overseas in the future?

In our case, we feel that our active participation in overseas trade shows has led to increased local media exposure and product awareness. The most focused area in the exhibition was CES, an electronics trade show held in Las Vegas, USA. I think we were able to achieve a certain level of effectiveness due to the high level of attention from major national and international media. Another reason for the effective promotion may have been the fact that we hired a highly skilled specialist to write English press releases to be utilized during the promotion.

In addition, the participation in a local accelerator program overseas was a great achievement, as it allowed us to make contacts with the SU ecosystem and startups. These local encounters can lead to subsequent fundraising, so we hope you will give it a try if you are interested.
---
At this event, we provided information on the future prospects for startups in Tokyo, as well as important points and secrets for success when expanding overseas. X-HUB TOKYO will continue to provide useful information for startups aiming for overseas expansion as well as the latest trends in open innovation through a variety of events.