X-HUB TOKYO, which supports the overseas expansion of startups in Tokyo, held its #2 Overseas Expansion Seminar "Entering European Markets ~Comparison ecosystems of Germany and London~" on July 11th.
The event introduced an overview introduction of X-HUB TOKYO, the charms and latest trends of the German and London markets, strategies for startups which aim to expand through Europe.
In the first half of the event, Ms. Yoko Nakamura from JETRO Berlin Office and Mr. Masahide Sakishige, executive director of JETRO London Office, shared the latest information and characteristics of the ecosystem in London and Germany. Next, Mr. Yoshikazu Takasaki, CEO of DoremingJapan Co.,Ltd. ,who has a base in London, talked about the reality of UK business.
Later in the event, Mr. Keiichiro Yano, CEO of SWAT Lab. Inc., and Mr. Shuhei Kataoka, Executive director of Public Meets Innovation and first secretary at Embassy of Japan in the UK, participated as a panelist in a panel discussion. Together with a facilitator, Mr. Taisuke Alex Odajima, CEO of EDGEof INNOVATION, LLC, they discussed the differences between the startup ecosystems in Germany and London and delivered some messages for startups which aim to expand overseas.
---
Characteristics of the Ecosystem in Germany and London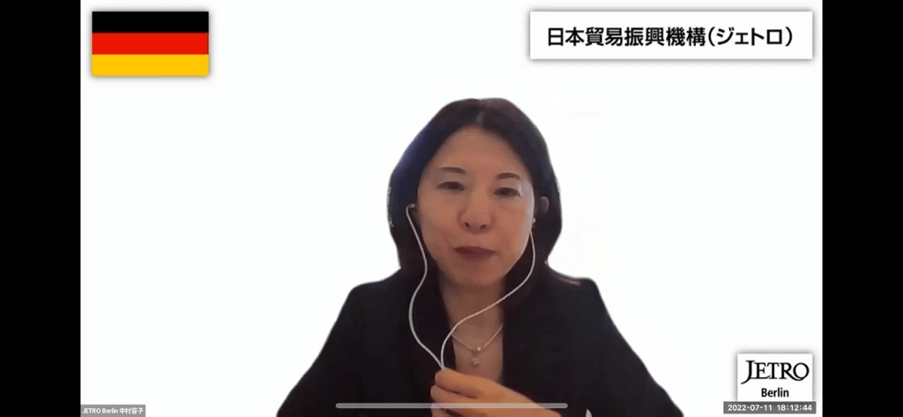 JETRO Berlin Office
Ms. Yoko Nakamura
At first, Ms. Yoko Nakamura from JETRO's Berlin office will talk about the economic situation in Germany and the characteristics of startup ecosystem.

Germany has the largest population and GDP in the EU member states. There are many global players in the country, including not only large companies but also small and medium-sized enterprises (SMEs), especially in the automobile, industrial equipment, and chemical fields. In addition, since there are unique companies and industries are concentrated in each region Germany's economy can be described as "decentralized model, not centralized model".
Policy themes that German government is currently focusing on are EV, IoT, carbon neutrality, environmental technology, digital healthcare, and food fields. We believe that there is an opportunity for startups to expand their business in these areas. In addition to that, ecosystems are formed with unique characteristics according to each region's industrial accumulation in Germany
For example, in Berlin, which has largest ecosystem in Germany, fintech, AI, IoT, and cleantech are popular. It should be noted that many foreign entrepreneurs are starting their own businesses and they are using English in their startup business areas. In Düsseldorf, located in Germany's largest economic states North Rhine-Westphalia, has a concentration of startups in the energy, machinery, and IT-related sectors. In addition, there are lots of B-to-B startups which has many collaborations and potential customers in the automotive and machinery-related sectors, such as BMW and Siemens in Munich, Bavaria.
Furthermore, the fact that a culture of industry-academia collaboration has been fostered in Germany and lots of large companies are seeking to collaborate with startups through acceleration programs, would be the gateway to expand your market in Germany. We hope that you could have a business opportunity in Germany through using X-HUB Tokyo program and JETRO.
Thank you very much. Next, I would like to invite Mr. Masahide Sakishige, Executive director of JETRO London Office, to speak about London's ecosystem and the reasons for its strength.

Compared to the other area, United Kingdom including London has large startup ecosystem which is developing significantly. For example, from January to May 2022, the amount of startup investment in UK was $15.6 billion, which was second largest amount in the world after the United States. As for the feature of investment area, fintech is the biggest field.
Why these startup ecosystems are strong? We believe that the interplay of three strengths-"proactive government policies", "sophisticated free markets," and "world-class educational institutions" are making the largest startup ecosystem in Europe.
First, as a government policy, they have developed a regulatory sandbox system rapidly and provided fulfilling support program by government-related agencies such as Innovate UK and Catapult. In addition, National AI Strategy and the UK Digital Strategy are positioning "digital" as the foundation for industrial development as a national strategy. An opened friendly business environment for foreign companies and a concentration of major global companies, which collaborate with and invest in the region, indicates "sophisticated free market". Furthermore, we could see the UK's strengths from the fact that four of the top 10 universities in the world are belongs to UK, forming "Golden Triangle" supplying high-level talent in London, Oxford, and Cambridge.
JETRO London also provides various support to help Japanese startups expand their business in UK, such as arranging business meetings with potential local partners and providing co-working space for free. We hope that you will take advantage of these services and consider UK including London as a place to expand your business.
---
The Realities of UK Business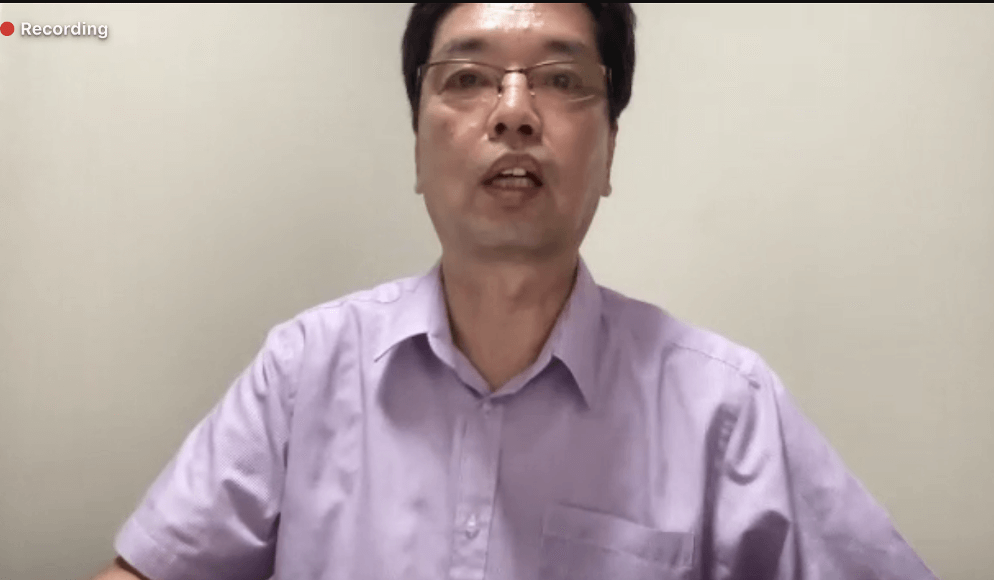 CEO of DoremingJapan Co.,Ltd.
Mr. Yoshikazu Takasaki
Next, Mr. Yoshikazu Takasaki, CEO of DoremingJapan Co.,Ltd. a fintech company, which isexpanding in many countries and regions including the U.K.,. We will ask about the progress of his current business and the realities of doing business in U.K.

Dremming offers fintech services which combines finance and technology. Since our founding in 2015, we have received empathy and high praise from United Nations and the British government. Also, we are the first Japanese fintech company to have an office in Level 39, a co-working space in the middle of London's financial district. We believe that we have a significant role to play through our financial services, as dealing with refugees has become an important policy issue in Europe.
I feel that businesses related to fintech, and finance are very welcomed in UK. In addition, since we have friendship city relationship conclusion between Tokyo and London, there are many companies willing to collaborate with each other.
We are now operating not only in the United Kingdom and the United States, but also in the Middle East or India, which is called "developing countries". Especially in countries where security is not stable, the use of digital money is spreading rapidly because carrying cash is dangerous and counterfeit bills are common. We could view these situations would be a great opportunity for Japan to create a new market.
These days, SDGs-related businesses are also popular in UK. In the future, we would like to continue expanding into regions and countries, which has greater needs, aiming to solve social issues such as poverty and inequality.
---
What are the differences in ecosystems between Germany and London, and what business strategies should we consider to expand our business?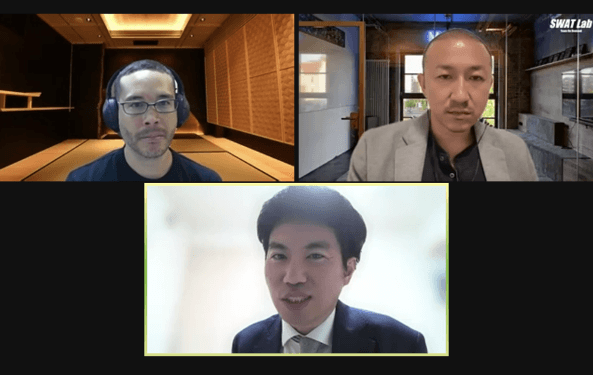 From top left, top right, bottom center.
CEO of Edge of Innovation, LLC.
Mr. Taisuke Alex Odajima,
Co founder & CEO of SWAT Lab.Inc.
Mr. Keiichiro Yano,
Executive Director at Public Meets Innovation / First Secretary at Embassy of Japan in the UK
Mr. Shuhei Kataoka
We will now hear from Mr. Keiichiro Yano, CEO of SWAT Lab, Inc. and Mr. Shuhei Kataoka, Director of Japan Association of Public Meets Innovation and former First Secretary of the Embassy of Japan in the UK (diplomat in charge of fiscal and financial affairs), about the characteristics of the German and London ecosystems and business strategies to consider when entering their market.

Mr. Keiichiro Yano: We are based in Berlin and providing open innovation support business. In Berlin's ecosystem, the automotive domain has been remarkably exciting, and we feel good compatibility with Japanese main industries. Another characteristic is the diversity in nationality, race, and occupation, with many people holding titles other than "salary man," such as freelancers, academics, and artists. However, it is important to capture the characteristics of each region and market, rather than lumping them all together, as there are significant regional differences among Germany's regions.
Mr. Shuhei Kataoka: After I was responsible for supporting FinTech and Healthcare Tech area through planning, negotiating overseas and operating systems for the regulatory sandbox system in the Cabinet Secretariat, I was stationed at London as the First Secretary of the Embassy of Japan. While I was in London, I proceeded liaising with the British government and developing new local communities, where there are no Japanese, for the same time. London has very polite government support in terms of regulation, human resources, and investment, as well as a private-sector mindset that embraces challenges, many leading accelerators that can be called the hub of fintech and insure tech, and many investors with capital mainly from Series C onward. Many startups English talents come not only from the UK or EU, but also from former Commonwealth countries, the Middle East, India, South America, Africa, etc. However, I feel that there are more areas of business that we can collaborate with companies outside of insurance and finance than I thought, such as companies in the cleantech, agri-tech, and deep-tech are that have been selected as top accelerators for insure tech. Recently, GAFAM and other tech firms that had their R&D headquarters in Dublin, Ireland, a neighboring country with low tax rates, have been relocating their headquarters to London, UK, after leaving the EU, in response to trends such as stricter GDPR (regulations regarding the transfer of personal data outside of the EU). That movving is a notable trend. Therefore, if you have enough capital, you are able to hire good digital talent which it is a good trend for startups.
Finally, could you give some messages for startups and companies that are looking to expand overseas?

Mr. Keiichiro Yano: The most important thing to keep in mind when expanding overseas is not to set going overseas or expanding overseas itself as a goal. Determine whether your business or operations will expand by entering overseas before you take the first step. Also, when it comes to starting a business overseas, many people may think setting up an overseas corporation and other forms and places. However, before that, it is important to find local partners and explore market possibilities. We recommend you not to try establishing roots in the local market from the beginning, but rather, as you gradually become familiar with the local situation, proceed with your business in a concrete way, such as by establishing a corporation or hiring a country manager.
Mr. Shuhei Kataoka: I have the same opinion as Mr. Yano, and if I may add, you would not forget to have the attitude of "first, go to the local area for 10 days". You could find some issues that can only be discovered only by going to the local area (it is difficult to open a bank account at a major bank without an address, but you cannot rent a house without a bank account). Also, you can feel the needs and consequences of such situation. (Even if the major bank doesn't work, there is a tip to open a major bank account after staying 10 days at a serviced apartment in South Kensington where the hotel and residence have the same address and the same name. After the stay, apply with your passport and your selfie video by smartphone so that you can get your cash card in 5 days from challenger bank that has more than 30 brands). Also, there are more sole proprietorships in the UK than you might think, with over 75% of the 99% of small businesses in the country having no employees. (Through a website called "Companies House", which looks like Small Business Administration in the UK, allows you to search for all corporations, addresses, and representatives. In many cases, the neighbor in the apartment or an old friend is a sole proprietor.) It is also easy to find a business partner from the beginning of your stay in the UK. If you have a friend's corporate base in UK, you could get some opportunities to receive support from various business partners/accelerators, and government startup support. Since London is a diversity city, you will not be discriminated because you are Asian, a female representative, etc. We would be happy to hear from you if you are willing to enter London, and if you have specific needs, please contact us.
---
In this event, we provided useful information for Japanese startups considering expansion into the European market. X-HUB TOKYO will continue to provide information on the latest trends and features of the open innovation ecosystem overseas through various events.