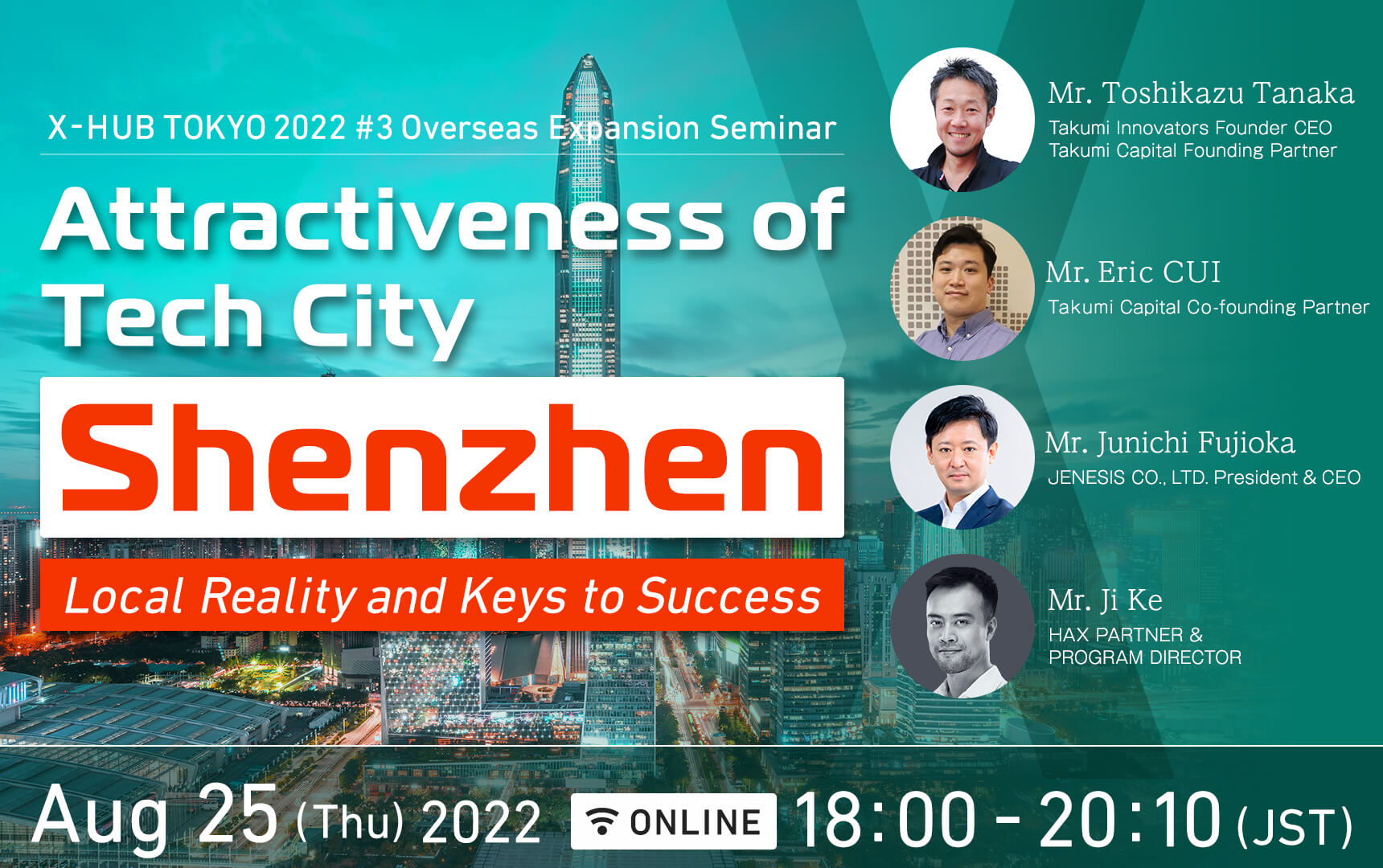 X-HUB TOKYO 2022
#3 Overseas Expansion Seminar
Attractiveness of Tech City Shenzhen
~Local Reality and Keys to Success~
August 25 (Thu) 18:00-20:10 (JST)

*Please note that the contents are subject to change.
The X-HUB TOKYO program hosted by the Tokyo Metropolitan Government is a project with the goal of supporting the global activities of startups within Tokyo as well as stimulating the city's economy through interaction with globally active overseas startups.
The Overseas Expansion Seminar is composed of five sessions total, and is targeted at startups aiming to expand their businesses overseas as well as members of supporting organizations that are considering collaboration with overseas startups. In these seminars, we will share (1) The characteristics of ecosystems by area, and (2) Knowledge necessary for overseas expansion.

#3 Overseas Expansion Seminar focuses on Shenzhen. In the seminar, we present the characteristics and charms of Shenzhen market.
In the first half of the event, Mr. Toshikazu Tanaka, Founder CEO of Takumi Innovators and Founding Partner of Takumi Capital, and Eric Cui, Co-founding Partner of Takumi Capital, will be invited to share an overview and the latest information of the ecosystems in Shenzhen.
In addition, as a senior startup, Mr. Junichi Fujioka, President & CEO of JENESIS CO., LTD, a very active Japanese entrepreneur in Shenzhen, will be invited to talk about the reality of doing business in Shenzhen.
Later in the event we will invite Mr.Ji Ke, PARTNER & PROGRAM DIRECTOR of HAX, to talk about the strategies that startups aiming to expand to Shenzhen should know.

We welcome participation not only from members of startups, but also from individuals and members of organizations that support them!

Event Report
Contents
Contents
Speakers
1
X-HUB Program Overview
X-HUB Administrative Office
2
Ecosystem of Shenzhen
Mr. Toshikazu Tanaka
Takumi Innovators Founder CEO
Takumi Capital Founding Partner
Mr. Eric CUI
Takumi Capital Co-founding Partner
3
Tips for Startups Aiming to Enter the Market in Shenzhen
Mr. Junichi Fujioka
JENESIS CO., LTD. President & CEO
4
Learnings from working with 300+ global startups in Shenzhen
Mr. Ji Ke
HAX PARTNER & PROGRAM DIRECTOR
※Please note that the content of the subject may change.

Lecturer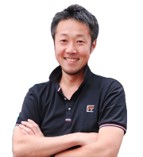 Mr. Toshikazu Tanaka
Takumi Innovators Founder CEO
Takumi Capital Founding Partner
In 2015, Toshikazu Tanaka launched Takumi Innovators in Shanghai, and in 2018, established additional offices in Shenzhen and Tokyo. Prior to becoming independent, he worked for Deloitte)for 12 years in M&A advisory and IPO support services. He was stationed in Deloitte's Shanghai office for 4 years. Prior to joining Deloitte, he worked as a systems engineer at Hewlett Packard.
Mr. Tanaka is the 2019 recipient of "the Bai Yulan Memorial Award", an award given to foreigners recognized for their significant contributions to Shanghai.
Graduated from the University of Tokyo, Faculty of Engineering, Department of Aerospace Engineering. Passed U.S. CPA, China CPA courses (accounting and taxation), and China Fund Engagement Qualification.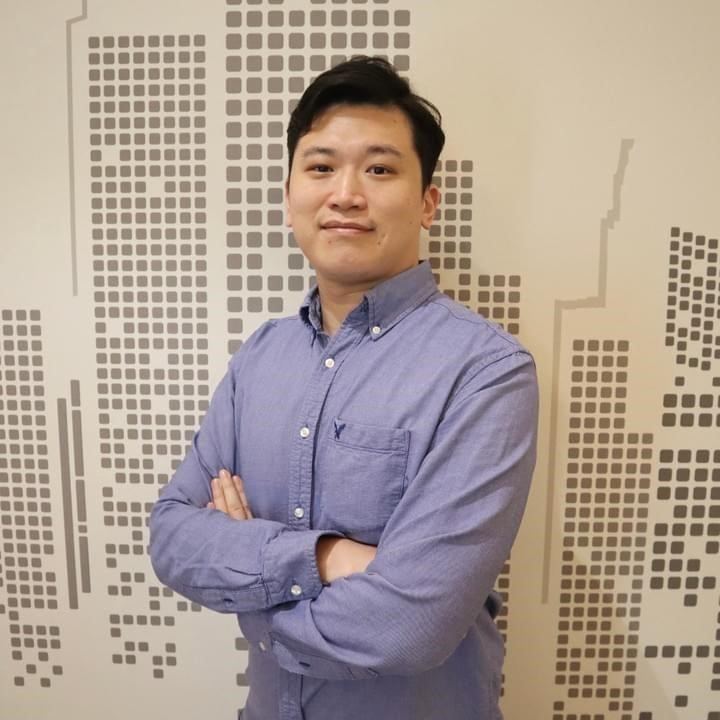 Mr. Eric CUI
Takumi Capital Co-founding Partner
After working as an advisor for large companies, researching the latest situation of innovation in China, and assisting Japanese startups in raising funds at Takumi Capital, Mr. Cui is currently in charge of the Japan-China Industrial Innovation Fund. Born in Liaoning Province, China, he majored in Japanese language at a university in China and experienced starting his own business in the field of Japanese language school and food delivery while in university. After moving to Japan in 2011 and completing a Master of Business Administration (MBA) at Tohoku University's Graduate School of Economics and Management, he worked for a Japanese start-up company for nearly 5 years, where he was involved in branding, product planning, and promotion planning. Mr. Cui speaks Chinese, English, and Japanese.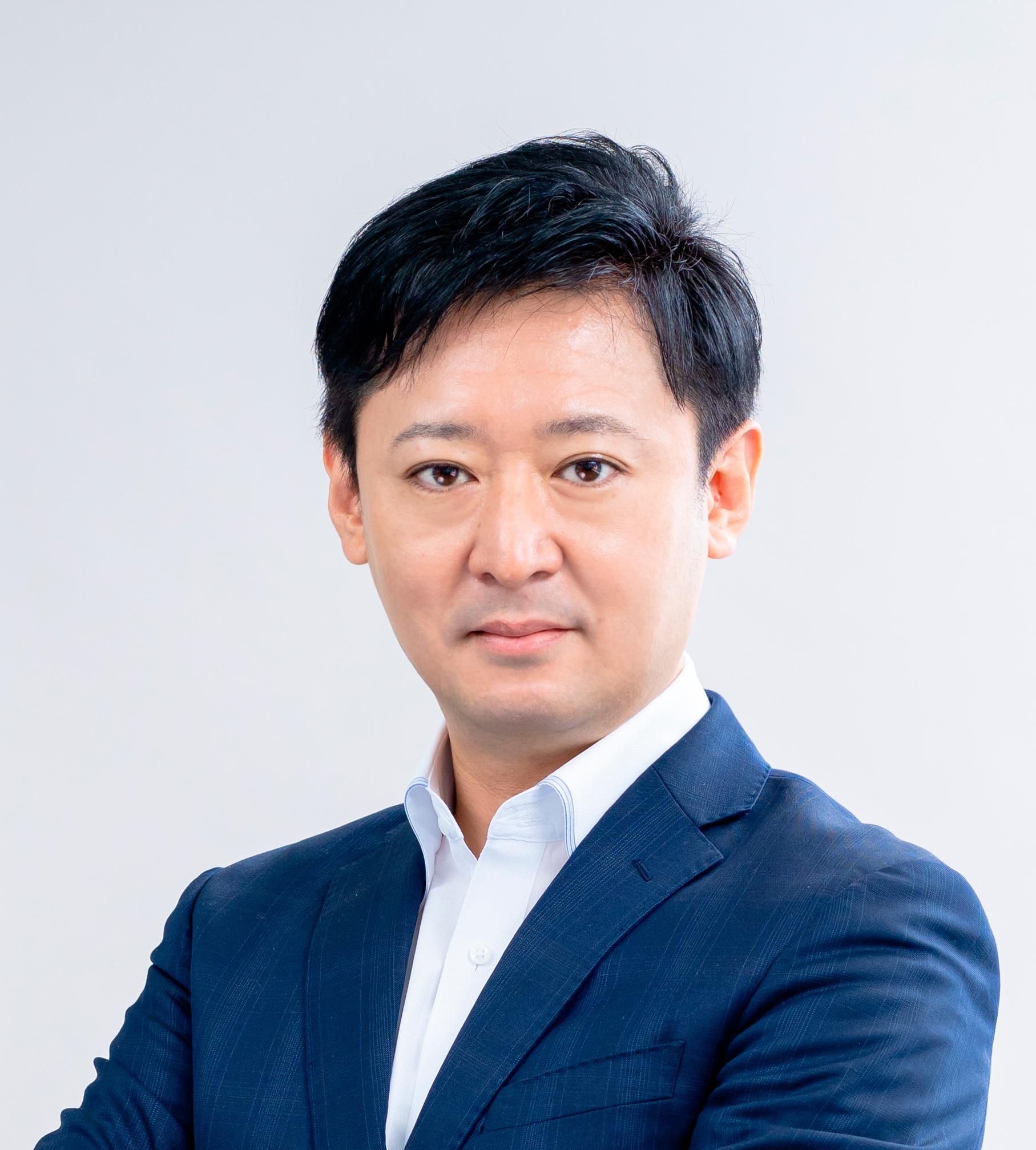 Mr. Junichi Fujioka
JENESIS CO., LTD. President & CEO
After working as a semiconductor designer, mass production design engineer, and fabless consumer electronics venture company, he founded JENESIS in Shenzhen, China, in 2011, and in the following year, founded the Japanese subsidiary (currently JENESIS Co., Ltd.). Currently, he is mainly engaged in OEM/ODM of IoT devices at the Shenzhen factory. In 2020, he was appointed as Representative Director and Vice President of JNS Holdings, Inc. after the transition of the group to a holding company structure. He is also a technical advisor at SourceNext Corporation, a manufacturing strategic advisor at ugo, Inc., and a product development advisor at MAMORIO, Inc. He is the winner of the WIRED audi INNOVAITON AWARD 2019, and the author of "Learning from Hardware's Silicon Valley Shenzhen" etc.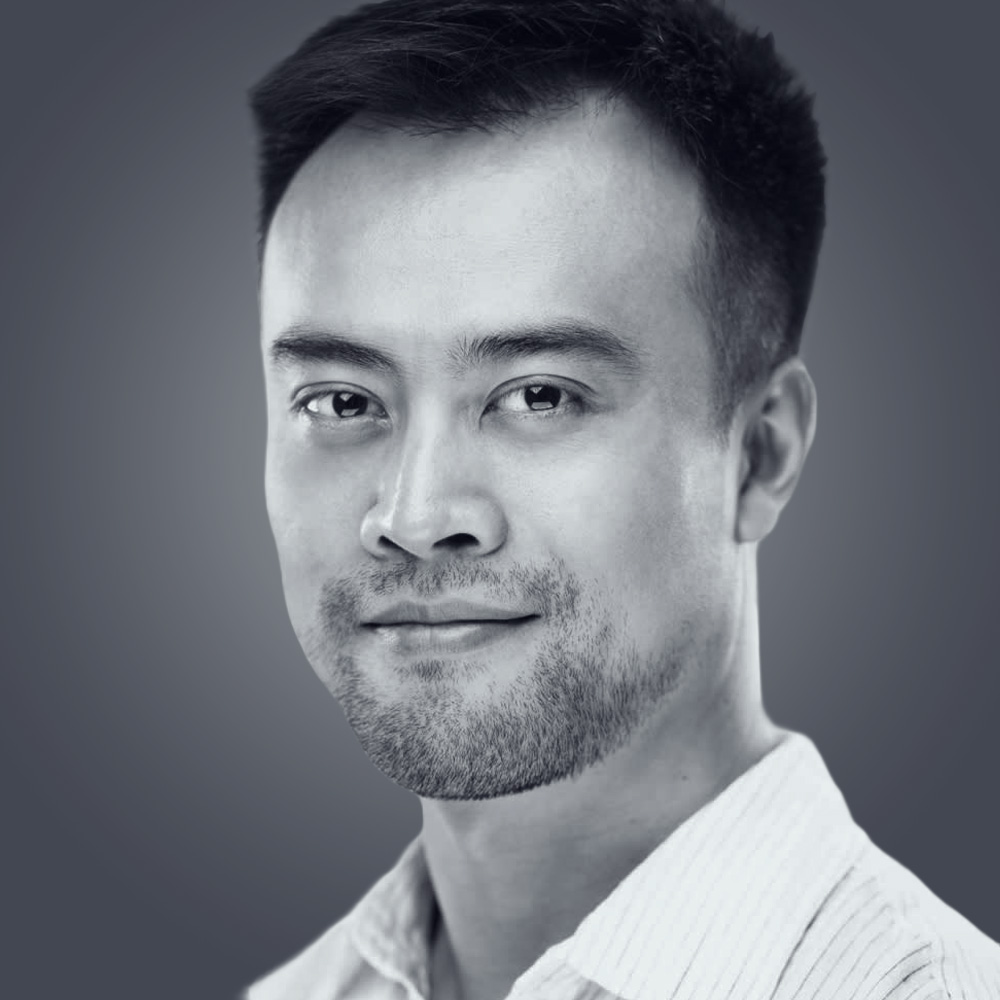 Mr.Ji Ke
HAX PARTNER & PROGRAM DIRECTOR
As a partner and program director at HAX, Ji Ke is responsible for driving the content and delivery of the HAX program in Shenzhen. He oversees all elements of recruitment, application review and due diligence, curriculum development, mentorship development, and program execution. He also provides ongoing mentorship and support for teams in-program and HAX alumni. Ji is a mechanical engineer by training. He brings with him a unique combination of experience in factory automation, product design, and high-speed machinery. He is skilled in designing complex mechanisms for a wide range of industries. His patent portfolio includes Direct Metal Laser Melting, machine vision, nursery products, industrial machineries, air compressors, and diesel engine components.
Target
Anyone interested in overseas expansion of their startups are welcome!
– Startups aiming to expand overseas
– Major corporations, VCs, financial institutions, universities, and other organizations that support startups that are looking to expand overseas.
Entry fee
Free
Place
Zoom Webinar
*The URL will be sent to those who have registered at least a day before the meeting.
Application
Please apply at the following URL.
Note
*Your application is processed by Shannon Inc.
*The contents of the application are protected by SSL encryption.
*Registration is required for each individual.