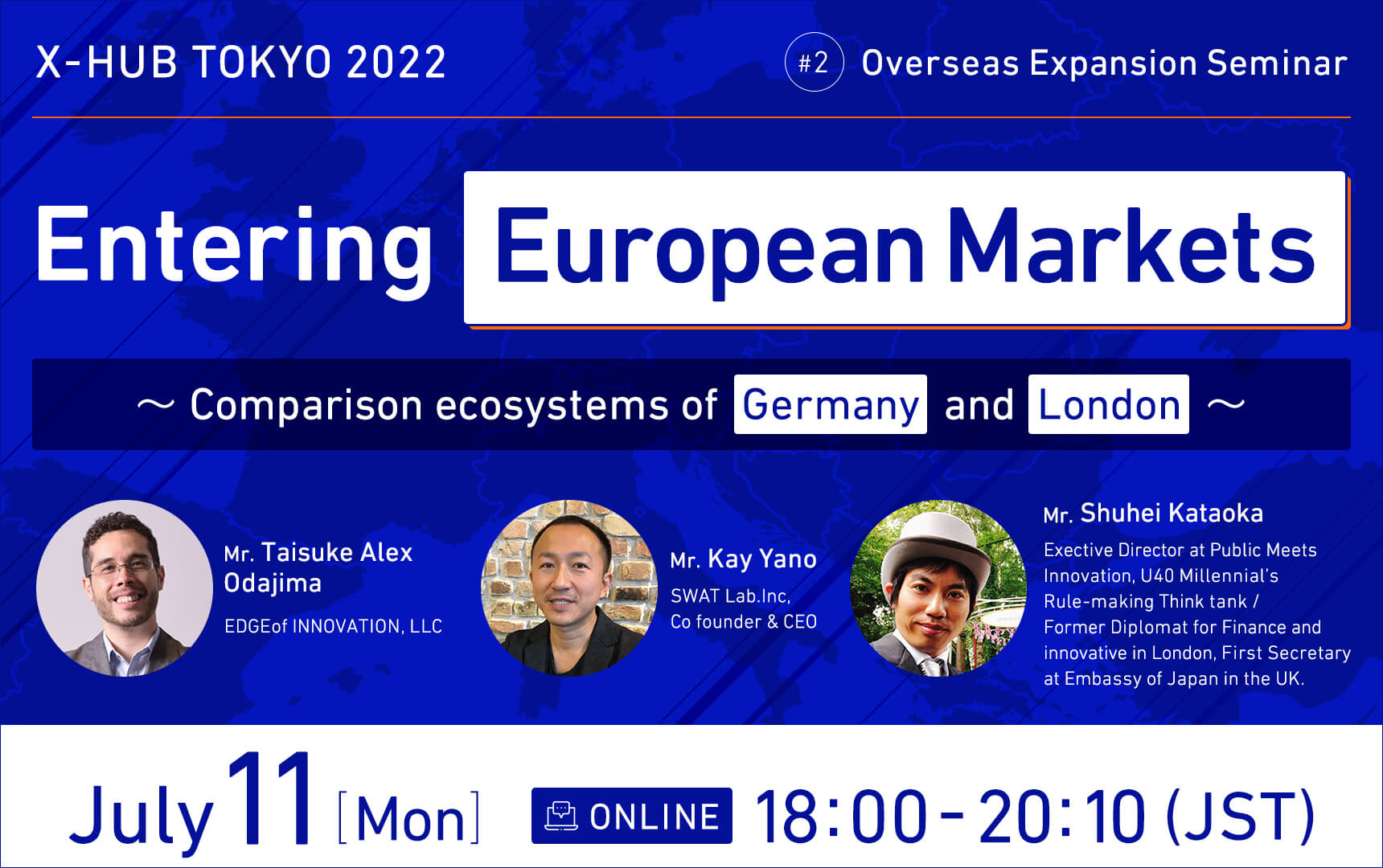 X-HUB TOKYO 2022
#2 Overseas Expansion Seminar
Entering European Markets
~Comparison ecosystems of Germany and London~
Date:July 11 (Mon) 18:00-20:10 (JST)

*Please note that the contents are subject to change.
The X-HUB TOKYO program hosted by the Tokyo Metropolitan Government is a project with the goal of supporting the global activities of startups within Tokyo as well as stimulating the city's economy through interaction with globally active overseas startups.
The Overseas Expansion Seminar is composed of five sessions total, and is targeted at startups aiming to expand their business overseas as well as members of supporting organizations that are considering collaborating with overseas startups. In it, we will share (1) Characteristics of ecosystems by area, and (2) Knowledge necessary for overseas expansion.

#2 Overseas Expansion Seminar focuses on Germany and London. In the seminar, we present the characteristics and charms of the Germany and London market.
In the first half of the event, Mr.Masahide Sakishige, Executive Director of JETRO London Office and Ms.Yoko Nakamura, Director of JETRO Berlin Office will be invited to share an overview and the latest information of the ecosystems in London and Germany.
In addition, as a senior startup, Mr. Yoshikazu Takasaki, CEO of DoremingJapan Co.,Ltd., who has a base in London and is challenging London expansion will be invited to talk about the reality of London expansion.
Later in the event, a panel discussion will be held. Mr. Keiichiro Yano, Co founder & CEO of SWAT Lab.Inc., Mr. Shuhei Kataoka, and Mr. Alex Taisuke Odajima, who is the CEO of EDGEof INNOVATION, LLC, will talk about the latest trends in Germany and London, and the strategies that startups aiming to develop should know.

We welcome participation not only from members of startups, but also for individuals and members of organizations that support them!

Event Report
Contents
Contents
Speakers
1
X-HUB Program Overview
X-HUB Administrative Office
2
Ecosystem of Germany and London
Mr. Masahide Sakishige
JETRO London Office, Executive Director
Ms. Yoko Nakamura
JETRO Berlin Office, Director
3
Tips for Startups Aiming to Enter the Market in London
Mr. Yoshikazu Takasaki
DoremingJapan Co.,Ltd., CEO
4
Differences in Ecosystems Between Germany and London, and Business Strategies to Consider When Expanding into the Market
Mr. Kay Yano
SWAT Lab.Inc, Co founder & CEO
Mr. Shuhei Kataoka
Executive Director at Public Meets Innovation, U40 Millennial's Rule-making Think tank / Former Diplomat for Finance and innovative in London, First Secretary at Embassy of Japan in the UK.
Mr. Taisuke Alex Odajima
CEO of EDGEof INNOVATION, LLC
※Please note that the content of the subject may change.

Lecturer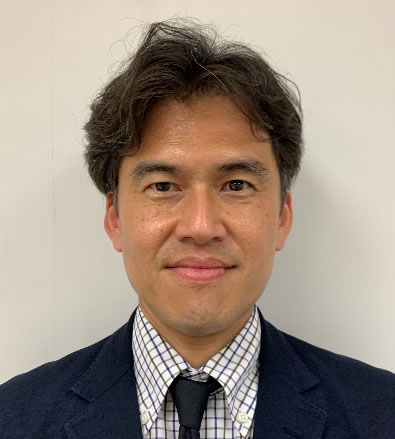 Mr. Masahide Sakishige
JETRO Executive Director, London Office
Masahide Sakishige joined JETRO in April 2000. After working as President of Colombo office in Sri Lanka in 2009-2014, he worked in the Human Resources Division, and Japan Food Overseas Promotion Center before being assigned in his current position in May 2021. He Is involved in supporting Japanese startups to expand in Europe, promoting European startups to invest in Japan, and supporting Japanese companies to conduct open innovation in Europe.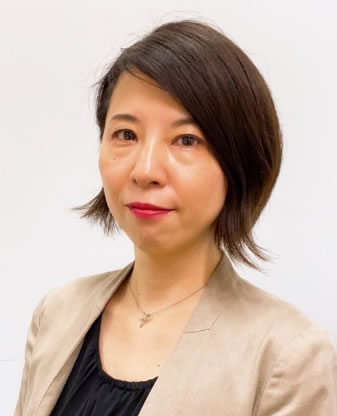 Ms. Yoko Nakamura
JETRO Director, Berlin Office
Yoko Nakamura joined JETRO in January 2015 and worked in the Foreign Company Support Div. of the Invest Japan Department. She was engaged in providing support to overseas companies for entering into Japan. She has been in her current position since June 2019. In Berlin, She is currently involved in supporting startups and other innovative Japanese companies to expand their business in Europe, helping Japanese companies' open innovation in Europe, and conducting research projects.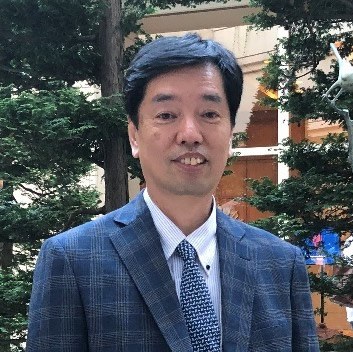 Mr. Yoshikazu Takasaki
DoremingJapan Co.,Ltd., CEO
After working as a chef, he started a franchised Mos Burger in Nishinomiya City, Hyogo Prefecture at the age of 30. In 1995, at the age of 38, established Kizuna Japan Co., Ltd. after the Great Hanshin-Awaji Earthquake. In 1999, started developing of the first ASP-type HR, attendance, and payroll system in Japan. In 2008, launched the world's first payroll service on a daily basis. Established Doreming Co., Ltd. (Fukuoka, Japan) and Doreming.Inc (USA) in 2015, Doreming.LTD (UK) in 2016, Doreming Service,Pvt.Ltd (India) in 2017, Doreming.MENA (Saudi Arabia) and Doreming.Pte. Ltd (Singapore) in 2018. Currently working with UK government agencies on FinTech (automated tax collection and macrofinance) to reduce global poverty.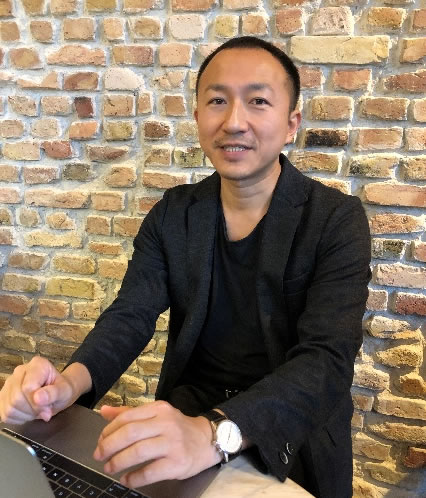 Mr. Kay Yano
SWAT Lab.Inc, Co founder & CEO
Kay Yano was involved in the SaaS business at Google and Salesforce during its growth phase. After earning an MBA from IE Business School, he moved to Berlin to take his current position. After starting Web3 related startup and open innovation support businesses in Estonia and Germany, he founded SWAT Lab, which provides community-based problem solving for enterprises in the Web3 era. He is the co-author of "The Next Silicon Valley" published by Nikkei Business Publications.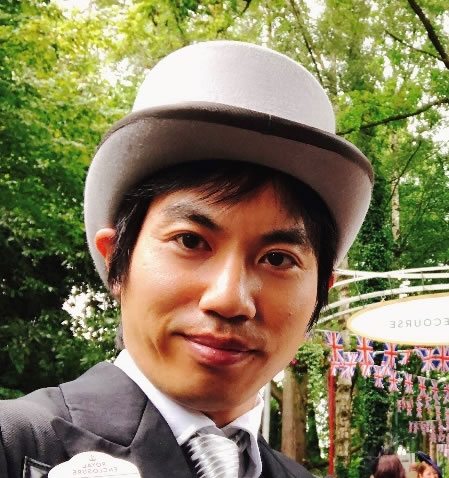 Mr. Shuhei Kataoka
Executive Director at Public Meets Innovation, U40 Millennial's Rule-making Think tank / Former Diplomat for Finance and innovative in London, First Secretary at Embassy of Japan in the UK.
Shuhei KATAOKA has the strong experience of founding the non-profit community for young professionals public and private sectors. One of them was called " Kasumigaseki -LAB ", he held learning salon with cutting edged theme such as rule making, technology, ESG investment over 35 times since 2017.
He is also Co-founder and Executive director for the other non-profit (Association of Public Meets Innovations,U40 Millennial's Rule-making Think tank) since 2018.
Most recently, He was First Secretary at Embassy of Japan in the United Kingdom for 3 years from July 2018 to July 2021. His role as Diplomat includes the Reinforcement Government Relationship with UK Government such as HM Treasury, HMRC, Cabinet Office and the other G7+ diplomats in order to achieve the intensive research about UK Budget, Tax, and Custom border design after Brexit, ESG investment, and other economic issues.
He was also in charge of innovative policy making for Japanese Regulatory Sandbox from July 2017 as Deputy Director at Cabinet Secretariat (CAS), Government of JAPAN. To address related issues, he still participates in meetings FinTech, InsTech, Healthcare-Tech, and their development in Tokyo and London for exchanging the view and implementation of Regulatory Sandbox operated by Government of Japan.
Prior to joining to the Government, he managed all investment process from sourcing, financial closing to exit as Principal; Private Equity Investment Professional for Japan mid-cap leveraged buyout fund specialized in Healthcare sector, and also worked as consultant with new business strategic projects for telecom media and SIer, M&A support and a post-acquisition sales reinforcing projects for financial sector at BCG (the Boston Consulting Group).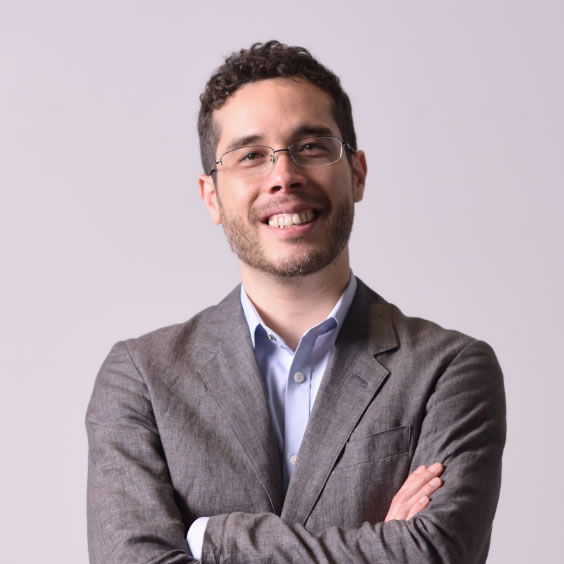 Mr. Taisuke Alex Odajima
CEO of EDGEof INNOVATION, LLC
As a business incubation specialist, Alex has been involved in numerous startup launches and corporate business development projects. He established an innovation hub called EDGEof in 2018, which has welcomed over 15,000 visitors from more than 50 countries and developed numerous innovative projects. After the closure of the facility in 2020 due to the pandemic, Alex continues to support the collaboration between companies and start-ups, and is involved in various activities to connect the innovation ecosystems in Japan and other countries. Among his involvement in various projects, he is a J-Startup recommendation committee member, Shibuya Startup Support Global Ambassador, board member of French Tech Tokyo, and Japan Representative for German Entrepreneurship Asia.
Target
Anyone interested in overseas expansion of their startups are welcome!
– Startups aiming to expand overseas
– Major corporations, VCs, financial institutions, universities, and other organizations that support startups that are looking to expand overseas.
Entry fee
Free
Place
Zoom Webinar
*The URL will be sent to those who have registered at least a day before the meeting.
Application
Please apply at the following URL.

Note
*Your application is processed by Shannon Inc.
*The contents of the application are protected by SSL encryption.
*Registration is required for each individual.