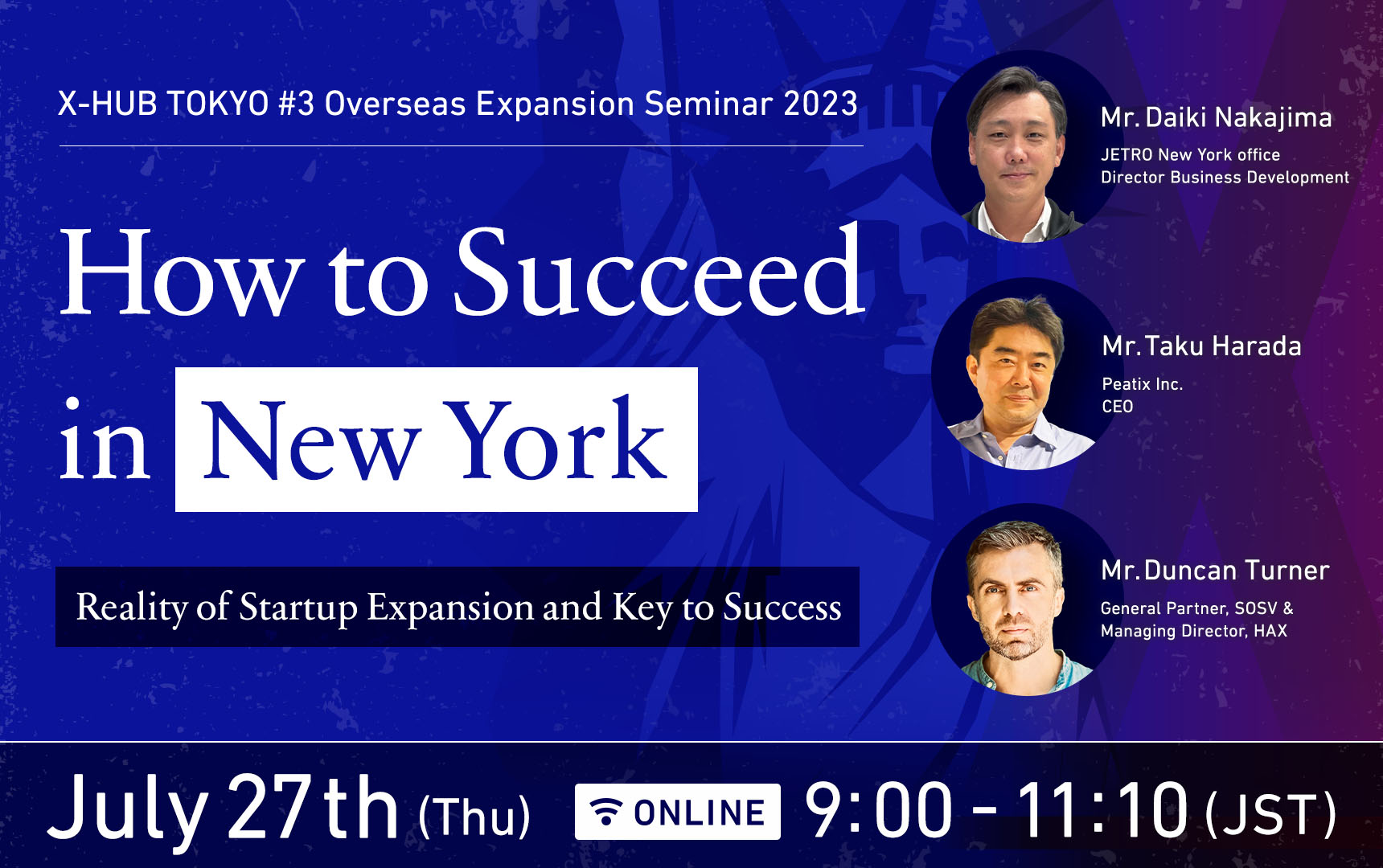 X-HUB TOKYO #3 Overseas Expansion Seminar 2023
How to Succeed in New York
~Reality of Startup Expansion and Key to Success~
Date: July 27th (Thu) 9:00-11:10 (JST)
The X-HUB TOKYO project, hosted by the Tokyo Metropolitan Government, aims to support the global activities of startups in Tokyo and revitalize the economy of Tokyo while fostering a startup ecosystem through exchanges with startups from overseas that are active globally. The Overseas Expansion Seminar is composed of four sessions in total and is mainly targeted at startups aiming to expand their businesses overseas. Through the seminar, we will share the characteristics of ecosystems by area and the knowledge necessary for overseas expansion.

The #3 Overseas Expansion Seminar will provide information on the features and attractions of the New York market.
In the first half of the event, Mr. Daiki Nakajima, JETRO New York office, Director, will be invited to share an overview and characteristics of the startup ecosystem and the support available for expansion in New York.

In the latter half of the event, we will invite Mr. Taku Harada, CEO, Peatix Inc., to share his experience in expanding to New York, the secrets of success, and challenges he faced. In addition, Mr. Duncan Turner, General Partner, SOSV & Managing Director, HAX, will explain the methodology for expanding into New York.

We welcome not only from startups, but also from individuals and members of organiations that support them.

Event Report
Contents
Contents
Speaker
1
X-HUB TOKYO Overview
X-HUB Administrative Office
2
Startup Ecosystem of New York
JETRO New York office, Director, Business Development
Daiki Nakajima
3
Specific methods and tips for successful business expansion in New York
Peatix Inc., CEO
Taku Harada
4
How to draw up a business strategy for startups entering into New York
General Partner, SOSV & Managing Director, HAX
Duncan Turner
5
Introduction of OUTBOUND PROGRAM
Japan External Trade Organization (JETRO)
Please note that the event contents are subject to change.
Panelists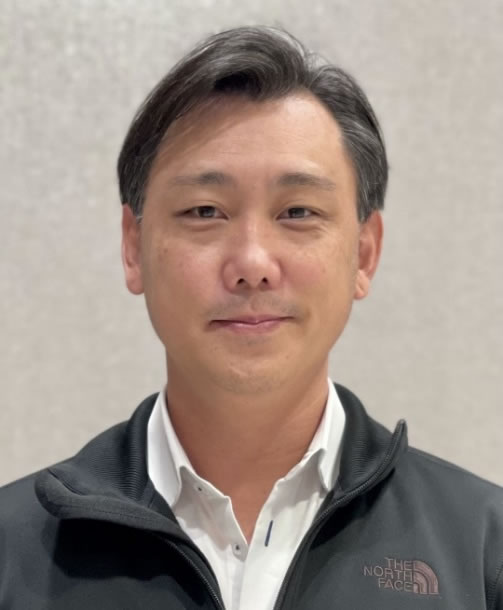 Mr. Daiki Nakajima
JETRO New York office
Director, Business Development
Daiki Nakajima currently oversees three major roles within the JETRO USA Ecosystem, combining his 15 years of business development activities between the US and Japan. In short, he is capable of guiding US companies to enter the Japanese market, assist Japanese startups through government programs to scale their business in the US, and advocate the overall importance of Japan as the top investor to the US by engaging with Federal and State Government leaders.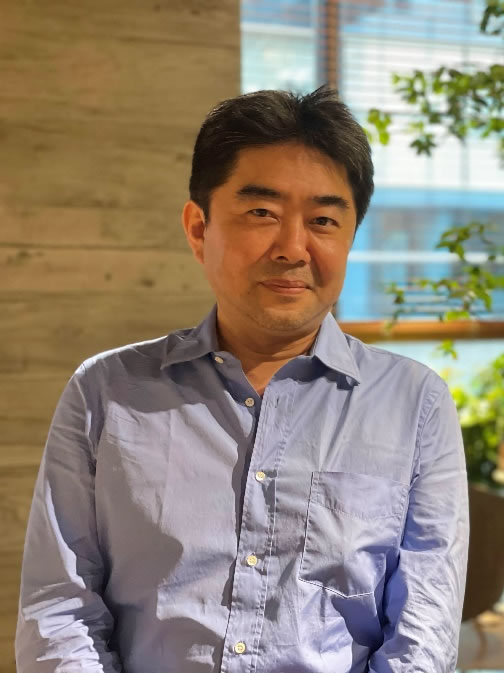 Mr. Taku Harada
Peatix Inc.
CEO
Taku Harada was born in Tokyo in 1973 and moved to New York shortly after his birth. He grew up in a family of musicians, surrounded by musicians and artists, and traveling the world. After graduating from Yale University in the United States, he joined Sony Music Entertainment Inc. and was involved in overseas contract work. After working for Amazon Japan LLC and Apple Japan LLC, he became the representative director of Yoox Japan Inc. He was then engaged in launching Peatix Inc., and holds the current position since 2011.
Ms. Duncan Turner
General Partner, SOSV & Managing Director, HAX
Duncan is a General Partner at SOSV and the Managing Director of HAX, the world's first and largest VC-backed program for hard tech. He has invested in over 100 hard tech companies and serves on multiple boards in the climate, industrial, and healthcare sectors. With extensive entrepreneurial experience, he specializes in fundraising and growing businesses globally. Prior to SOSV, Duncan led design and engineering strategy projects for Fortune 500 companies at IDEO, a global innovation firm.
Target
Anyone interested in overseas expansion of their startups are welcome!
– Startups aiming to expand overseas
– Major corporations, VCs, financial institutions, universities, and other organizations that support startups that are looking to expand overseas.
Entry Fee
Free
Place
Zoom Webinar
*The URL will be sent to those who have registered at least a day before the meeting.
Application
Please apply at the following URL.
Note
*Your application is processed by Shannon Inc.
*The contents of the application are protected by SSL encryption.
*Registration is required for each individual.