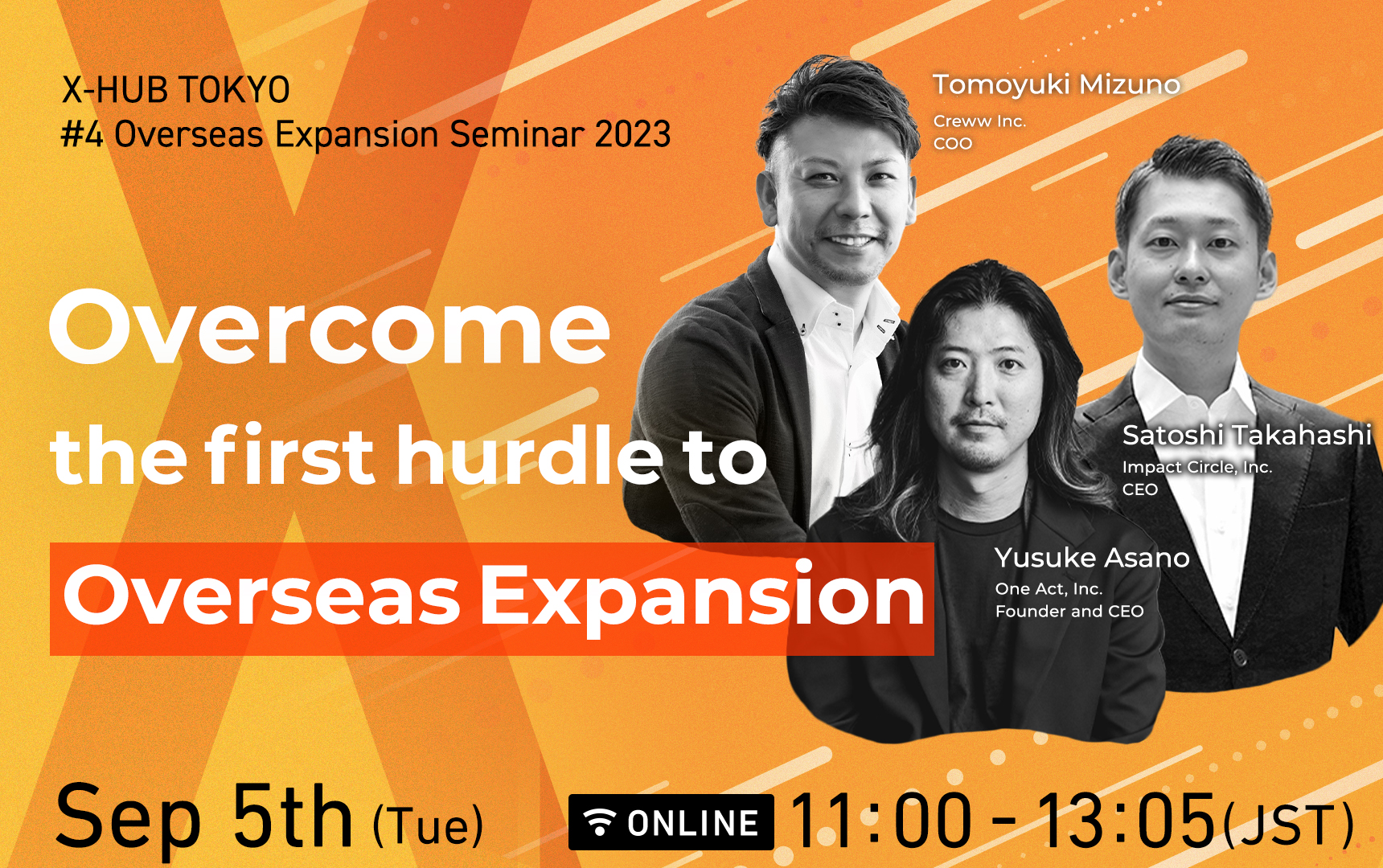 X-HUB TOKYO #4 Overseas Expansion Seminar 2023
Overcome the first hurdle to overseas expansion
Date: September 5th (Tue) 11:00-13:05 (JST)
The X-HUB TOKYO project, hosted by the Tokyo Metropolitan Government, aims to support the global activities of startups in Tokyo and revitalize the economy of Tokyo while fostering a startup ecosystem through exchanges with startups from overseas that are active globally. The Overseas Expansion Seminar is composed of four sessions in total and is mainly targeted at startups aiming to expand their businesses overseas. Through the seminar, we will share the characteristics of ecosystems by area and the knowledge necessary for overseas expansion.

The #4 Overseas Expansion Seminar will provide information issues in the early stages of overseas expansion and share insights and real-life experiences of overseas expansion.
In the first half of the event, Mr. Tomoyuki Mizuno, COO of Creww, Inc. will be invited to share useful knowledge focusing on issues that many startups aiming to expand overseas face, such as "understanding local market trends and needs" and "developing and verifying business plans.

In the latter half of the event, Mr. Yusuke Asano, Founder and CEO of ONE ACT, Inc. who has experienced overseas expansion from the early stage of the company's establishment, and Mr. Takao Takahashi, CEO of Impact Circle Inc. will speak about the background of their startups' overseas expansion and how they overcame the difficulties they faced in their efforts to expand overseas, sharing their own experiences.

We welcome not only from startups, but also from individuals and members of organizations that support them.
Contents
Contents
Speaker
1
X-HUB TOKYO Overview
X-HUB Administrative Office
2
Challenges faced in overseas expansion
Creww Corporation
 COO
 Tomoyuki Mizuno
3
Real-life experience of overcoming hurdles in overseas expansion
ONE ACT Co.
 Founder and CEO
 Mr. Yusuke Asano
Impact Circle Inc.
 CEO
 Mr. Satoshi Takahashi
4
Introduction of SCRUM PROGRAM
X-HUB Administration Office
5
Re-announcement of the program, request for questionnaire, etc.
Please note that the event contents are subject to change.
Panelists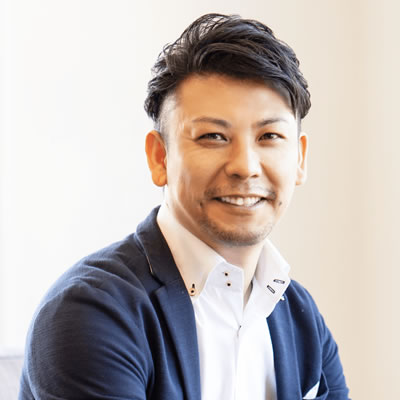 Mr. Tomoyuki Mizuno
Creww Inc.
COO
Born in Kanagawa, Japan in 1977.
After graduating from high school in Japan, he went to college in the United States.
With previous experience in sales and management at several IT startups, he joined Creww Inc. in 2013 and became a director of the company in 2017.
After serving as the head of sales and business manager for open innovation programs between companies, local governments and startups, he is currently the director and COO, responsible for overseeing the open innovation business, STARTUP STUDIO (incubation) business, and startup support business.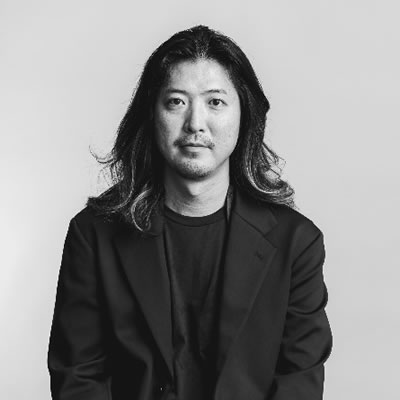 Mr. Yusuke Asano
One Act, Inc.
Founder and CEO
Started his career at Keyence, which has the second largest market capitalization in Japan after Toyota, and engaged in sales and team management for 8 years.
After that, he supervised the launch of two venture companies as a representative of a web service company and as a division manager of a software development company.
Founded One Act in 2013 and launched PieceX, the world's first AI-powered source code marketplace.
Established One Act UK in the UK and One Act US in the US for global expansion in 2021, concurrently serving as CEO.
He holds Professional Doctorate in Business Administration from the European International University Paris.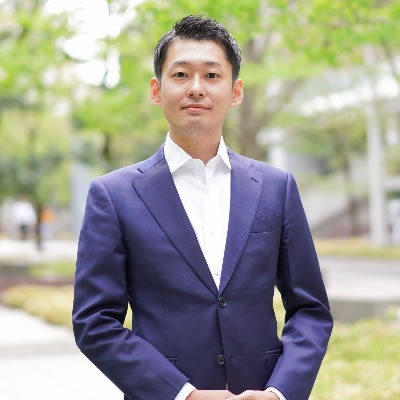 Mr. Satoshi Takahashi
Impact Circle, Inc.
CEO
As a founding member and Director of Global Mobility Service, a financial inclusion FinTech startup that reduces poverty, he was in charge of business development and equity financing in ASEAN countries and Japan. After growing the business, he founded Impact Circle, Inc. to establish a mechanism to invest in and finance impact businesses that are essential to society. He has been consistently committed to the development and dissemination of projects that create social impact, including financial inclusion and poverty alleviation.
Target
Anyone interested in overseas expansion of their startups are welcome!
– Startups aiming to expand overseas
– Major corporations, VCs, financial institutions, universities, and other organizations that support startups that are looking to expand overseas.
Entry Fee
Free
Place
Zoom Webinar
*The URL will be sent to those who have registered at least a day before the meeting.
Application
Please apply at the following URL.
Note
*Your application is processed by Shannon Inc.
*The contents of the application are protected by SSL encryption.
*Registration is required for each individual.