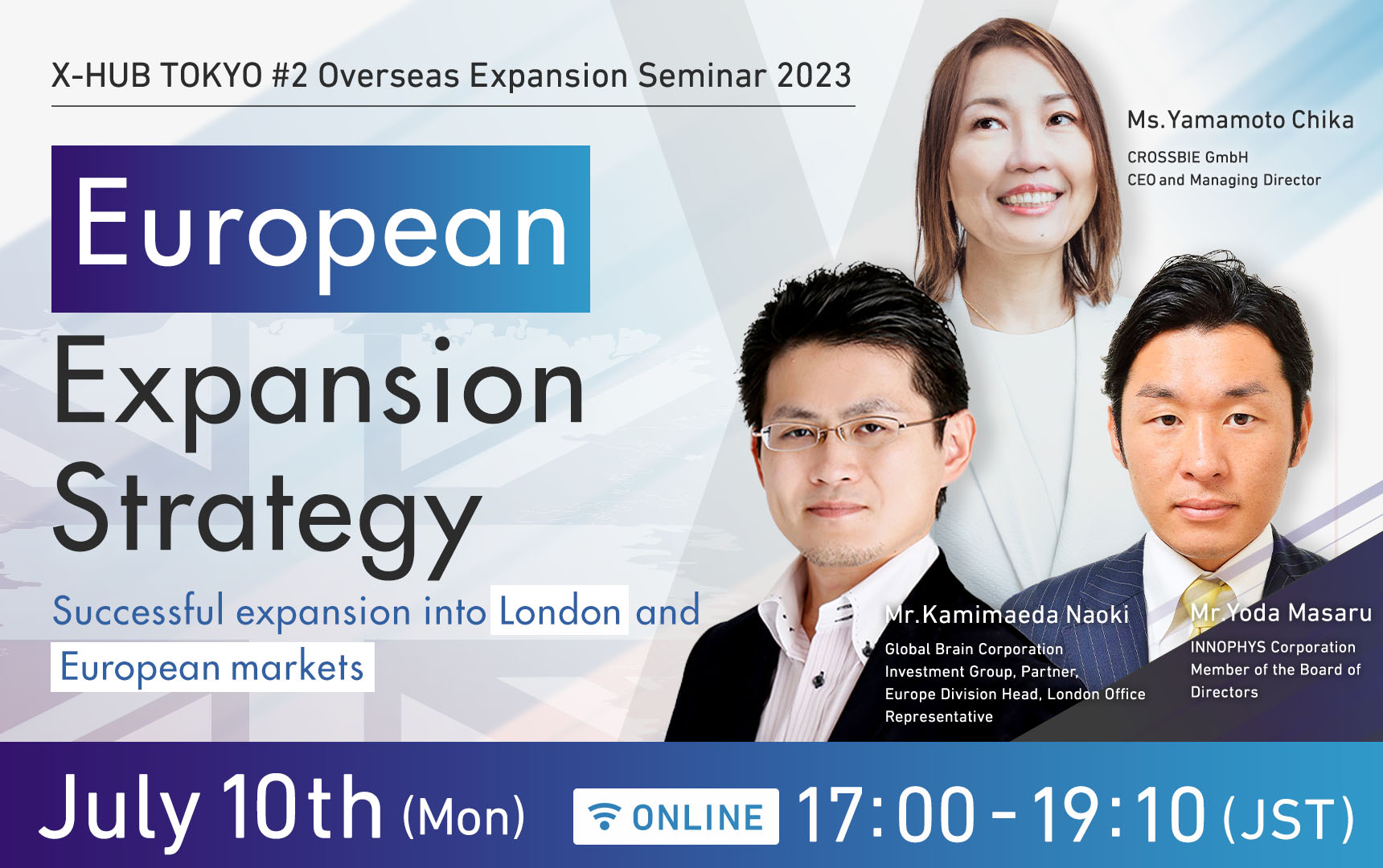 X-HUB TOKYO #2 Overseas Expansion Seminar 2023
European Expansion Strategy ~Successful expansion into London and European markets~
Date: July 10th (Mon) 17:00~19:10(JST)
The X-HUB TOKYO project, hosted by the Tokyo Metropolitan Government, aims to support the global activities of startups in Tokyo and revitalize the economy of Tokyo while fostering a startup ecosystem through exchanges with startups from overseas that are active globally. The Overseas Expansion Seminar is composed of four sessions in total and is mainly targeted at startups aiming to expand their businesses overseas. Through the seminar, we will share the characteristics of ecosystems by area and the knowledge necessary for overseas expansion.

In the #2 Overseas Expansion Seminar, we will present the characteristics and charms of the London and European markets.
In the first half of the event, Mr. Kamimaeda Naoki, London Office Representative and Europe Division Head of Global Brain Co will be invited to share an overview and characteristics of each ecosystem.
This will be followed by a talk by a senior success company, Mr. Yoda Masaru, Member of the Board of Directors of INNOPHYS Corporation, who already has several sales offices in Europe and is willing to expand more. Mr. Yoda will talk about the reality of doing business in Europe.
In the latter half of the event, Ms. Yamamoto Chika, CEO & Managing Director of CROSSBIE GmbH, will explain the methodology and strategy for expanding into London and Europe.

We welcome not only from startups, but also from individuals and members of organizations that support them.

Event Report
Contents
Contents
Speaker
1
X-HUB TOKYO Overview
X-HUB Administrative Office
2
Ecosystem of London and Europe
Speaker:
Global Brain Corporation
Investment Group Partner
Europe Division Head
London Office Representative
Mr. Kamimaeda Naoki
3
Tips for startups aiming to enter the European market
Speaker:
INNOPHYS Corporation
Member of the Board of Directors
Mr. Yoda Masaru
4
Business strategies to consider when expanding into the London and European markets
Speaker:
CROSSBIE GmbH
CEO & Managing Director
Ms. Yamamoto Chika
5
Introduction of OUTBOUND PROGRAM
Japan External Trade Organization (JETRO)
Please note that the event contents are subject to change.
Panelists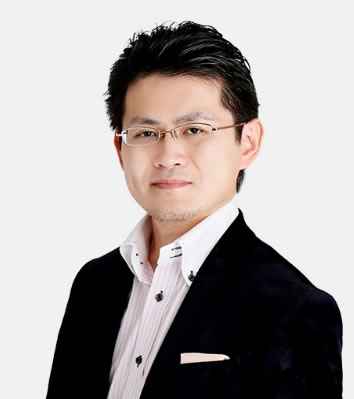 Mr. Kamimaeda Naoki
Global Brain Corporation
Investment Group Partner
Europe Division Head
London Office Representative
Before GB, Naoki worked for Sony and Sony Network Entertainment Int'l (US). He is the London Office Representative and head of investment operations in Europe/Israel. He focuses on startups in AI, CloudTech, cyber security, FinTech, and InsurTech. Naoki worked for Sony as a software engineer specialised in AI and Big Data technologies. For the last 2 years of his Sony career, he worked in San Francisco as a software engineering manager for the PlayStation Network.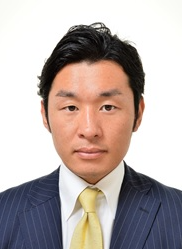 Mr. Yoda Masaru
INNOPHYS Corporation
Member of the Board of Directors
Mr. Yoda started his career in agency consulting business after gaining experiences in sales and sales planning at Recruit. After leaving Recruit, he engaged in projects such as new business development and strategy planning/ execution at consulting firms of Avergence and YCP Group. He joined INNOPHYS in 2018 and appointed as Director after serving as a Head of Sales and International Business Department.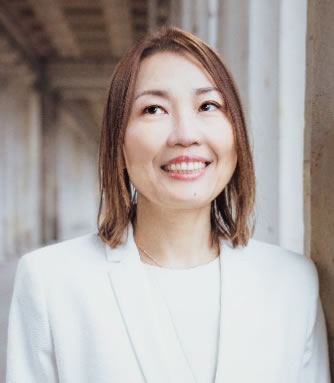 Ms. Yamamoto Chika
CROSSBIE GmbH
CEO & Managing Director
Chika joined Nokia after working as a strategic planner at a major foreign-affiliated advertising agency. After engaging in UX development and business development for Europe in Tokyo, Helsinki, and London, she experienced the launch of a location-based mobile advertising platform business. Moving to New York, she started her entrepreneurial track as a CPO for an EdTech company locally, which was later acquired by a media company based in Hong Kong. In 2010, she moved her base to Berlin and founded CROSSBIE in 2020 after establishing several companies. In addition to being a Global Acceleration Hub Partner of JETRO Berlin, she is the Asia Berlin Summit Ambassador for the Federal Ministry for Economic Affairs and Energy in Germany.
Target
Anyone interested in overseas expansion of their startups are welcome!
– Startups aiming to expand overseas
– Major corporations, VCs, financial institutions, universities, and other organizations that support startups that are looking to expand overseas.
Entry Fee
Free
Place
Zoom Webinar
*The URL will be sent to those who have registered at least a day before the meeting.
Application
Please apply at the following URL.

Note
*Your application is processed by Shannon Inc.
*The contents of the application are protected by SSL encryption.
*Registration is required for each individual.